Orban makes another cynical statement on Ukraine-Russia talks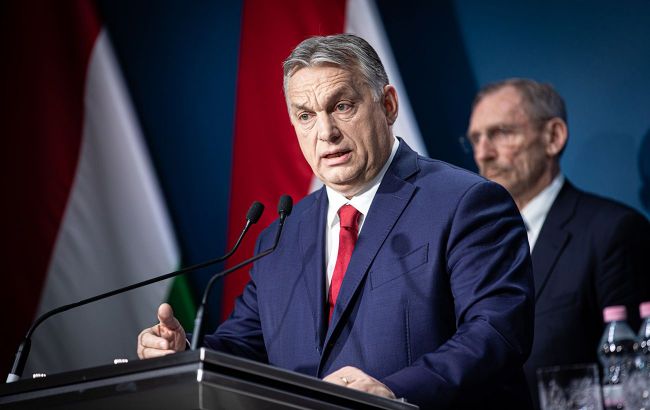 Hungarian Prime Minister Viktor Orban (facebook.com/orbanviktor)
Prime Minister of Hungary, Viktor Orban, made another cynical statement, calling for negotiations to end Russia's aggressive war against Ukraine, as reported by Magyar Hirlap.
"There is always a sense in talking about peace during the war. After the war, hundreds of thousands of people will find it difficult to live a normal life, so we need to talk about peace. If the voice of peace is not strong enough, society will be left with the belief that war is the solution. This situation can only be resolved through diplomacy and negotiations, and we will continue to do that," Orban said.
He reiterated his shameful claims that Ukraine has long lost its sovereignty and that itsmilitary forces are supposedly depleted.
The Hungarian Prime Minister believes that after the full-scale invasion by Russia, the West should have "localized the war."
"Angela Merkel localized the Ukrainian-Russian conflict (in 2014 - ed.). This should have been done now. This is what we represented. Now the West is not doing it. They send money and weapons to fight; of course, Ukrainians are fighting. The West will fight until the last Ukrainian soldier," he added.
Orban also said that the war is affecting the global economy.
"Europe has been cut off from Russian gas, and this is spreading, leading to some form of isolation, ghettoization. We mishandled this phenomenon from the very beginning. You have to go back to the beginning and start everything anew: you have to return to the negotiating table," he said.
Orban's controversial statements
The Prime Minister of Hungary has repeatedly made cynical and offensive statements regarding Russia's war against Ukraine, causing outrage both in Kyiv and among allied countries.
For instance, in May, Orban claimed that Ukraine would not be able to win the war and urged the Armed Forces of Ukraine to abandon counterattacks.
The Hungarian politician also said that he does not consider Russian dictator Vladimir Putin a war criminal, and he suggested that Ukraine is not a sovereign state because it "lacks its own weapons and money."
He also opposes the European Commission's plan to provide more financial aid to Ukraine.