Olena Zelenska meets with Ursula von der Leyen, stylish outfit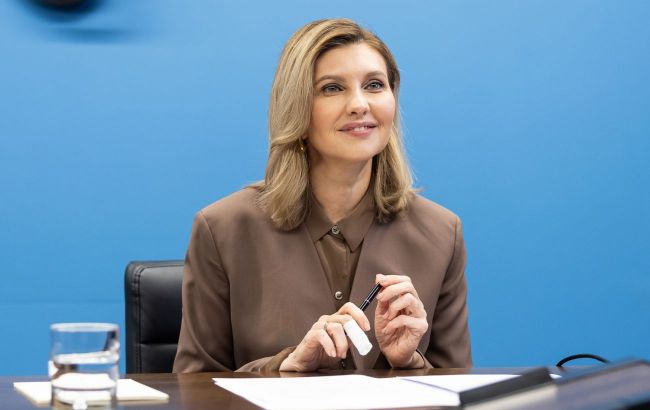 Olena Zelenska (facebook.com/olenazelenska.official)
The First Lady of Ukraine met with the President of the European Commission, Ursula von der Leyen, for their joint initiative School Buses for Ukraine, and sincerely thanked her for the help, showing another appropriate outfit.
The outfit chosen by the First Lady
For the meeting with Ursula von der Leyen, the president's wife opted for a stylish and understated look.
She wore classic black pants with a loose fit, a black turtleneck, and a tweed blazer coat, which is very fashionable this year.
To complete the outfit, Olena added her favorite black ankle boots.
This time, the First Lady decided not to dilute her look with bright colors and chose to display seriousness. After all, the black color symbolizes conservatism in views.
She didn't forget about accessories, as one can notice interesting yellow gold drop-shaped earrings on Olena.
Olena Zelenska in a stylish outfit met with Ursula von der Leyen (facebook.com/olenazelenska.official)
Olena Zelenska thanked Ursula von der Leyen
The First Lady met with Ursula von der Leyen to see the school buses that arrived in Ukraine as part of the initiative they launched together.
"Last year, being on a visit to the European Parliament, I told Mrs. Ursula von der Leyen about this. And now, within the framework of the School Buses for Ukraine initiative that we launched with Mrs. Ursula, Ukrainian communities will receive over 370 buses," says Olena Zelenska.
A large number of buses for Ukrainian schoolchildren is indeed an important part of education, especially considering that they can be useful not only to students.
"In the history of the Ukrainian defense, ordinary school buses have a separate and heroic page. On them, people had to evacuate from Bucha, Irpin, Hostomel, and cities in the east during the first days. They saved lives and helped the defense. And now they are a direct route to the future of children and the entire country in the midst of war. That's what school buses are, that's why they are important," Zelenska said.
Among the buses handed over to Ukraine are those equipped with lifts for students who use wheelchairs.
"We thank Mrs. Ursula, the European Union, EU countries, and our Polish friends from the Polish International Solidarity Fund and the Polish National Bank for making all this possible," Zelenska sincerely thanked.
The First Lady also added that these 370 buses would be distributed among the Kyiv, Sumy, Mykolaiv, Dnipropetrovsk, Lviv, and Chernihiv regions.
Olena Zelenska thanked Ursula von der Leyen (facebook.com/olenazelenska.official)