No direct hit - Israel stated about strike on hospital in the Gaza Strip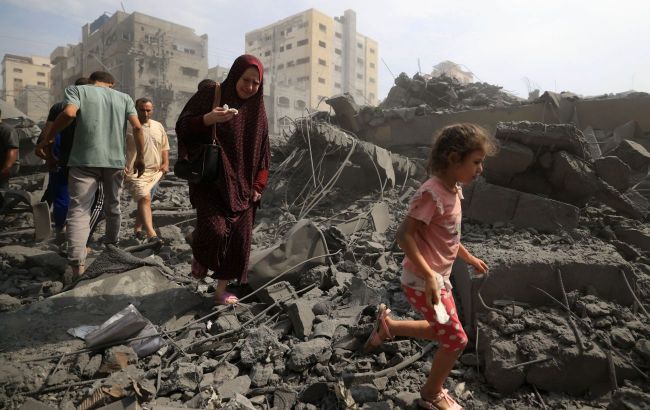 Israel made a statement about the strike on the hospital in the Gaza Strip (Photo: Getty Images)
The Israel Defense Forces (IDF) denies a direct airstrike on the Al-Ahli hospital in the Gaza Strip and its involvement. Tel Aviv has published footage of the hospital and intercepted conversations of militants to support this, according to Sky News and the IDF press service.
IDF spokesperson, Rear Admiral Daniel Haggai, held a press conference regarding the strike on the hospital in Gaza, where hundreds of civilians were present. According to Israel, at 18:15 local time, Hamas launched rockets at Israel, and at 18:59, the Islamic Jihad fired ten rockets. At the same time, reports of explosions near the Al-Ahli hospital were received.
Haggai spoke about a misfire of the Islamic Jihad rocket, which fell not on the hospital but on a nearby parking lot.
"Analysis of our aerial footage confirms that there was no direct hit to the hospital itself," he says, adding the only damage was to the car parking.
The spokesperson emphasizes that an Israeli strike would have had more significant consequences, including a crater from the rocket explosion. To confirm their statements, the IDF published footage before and after the explosion at the Al-Ahli hospital.
Additionally, the IDF claims to have intercepted a conversation among terrorists discussing the rocket misfire.
An Israeli military representative accused Hamas of trying to cover up what actually happened at the hospital. According to him, Hamas exaggerates the number of casualties.
Background
Yesterday evening, Hamas claimed Israel struck the Al-Ahli hospital in the Gaza Strip. The militants asserted that the hospital allegedly had 500 civilian deaths and hundreds of injuries.
Israel, in turn, denied the accusations and assured that it was not involved in the strike on the civilian hospital. The IDF claims that the explosion occurred due to a failed launch of an Islamic Jihad rocket.