World meets new Argentinan President: Who is 'anarcho-capitalist,' TikTok star Milei?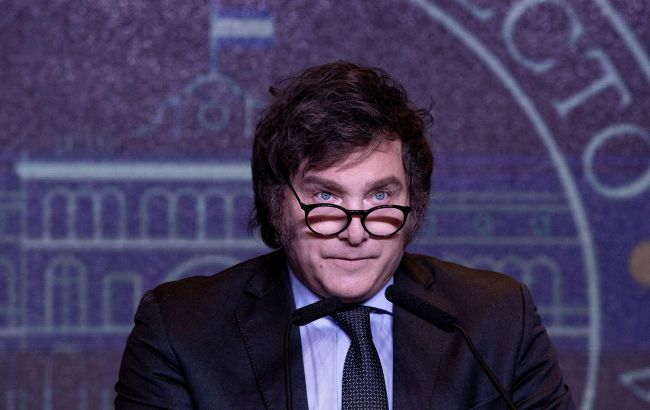 Photo: Argentina's President-elect Javier Milei (Getty Images)
In Argentina's presidential elections held this weekend, the victory was secured by the far-right politician Javier Milei. He is dubbed the TikTok star, holds negative views on ties with Russia, supports the United States, and backs Ukraine.
Who is Javier Milei, what is known about his positions, and how he expresses himself on the Russian-Ukrainian war can be found in the material below.
During the preparation of the material, sources such as CNN, BBC, La Nación, FT, a statement by the President of Ukraine Volodymyr Zelenskyy, Larazon, and The Economist were used.
What is known about his election victory
Javier Milei's victory was unexpected, as he was not considered the favorite in the second round of the presidential elections in Argentina. However, he managed to garner the majority of votes.
According to the National Electoral Chamber of the country, Milei received approximately 56% of the votes (over 13.78 million). It is worth noting that the elections in Argentina took place against the backdrop of an economic crisis. The country's current annual inflation exceeds 140%, and two out of five Argentinians live in poverty, with rising unemployment and poverty.
Therefore, as reported by FT, voters were enticed by promises of radical changes and the eccentric, non-traditional image that promised to overturn the country's political landscape.
Photo: Milei secures around 56% of voters' support (Getty Images)
Milei's main opponent in the pre-election race was the Minister of Economy, Sergio Massa, who many blame for the sorry state of the country's economy. He has already acknowledged his defeat and congratulated the new leader.
"Obviously the results are not what we had hoped for, and I have spoken to Javier Milei to congratulate him and wish him well, because he is the president that the majority of Argentines have elected for the next four years," Massa said, quoted by the BBC.
It is expected that Milei will assume the presidency of Argentina on December 10 and will hold the position until 2027.
Who is Javier Milei
Javier Gerardo Milei was born in 1970 into a family of Italian descent in the household of a bus driver. He once claimed to be extremely distant from his parents and even considered them "dead" to him. However, during the political campaign, he reconciled with both his father and mother.
Milei is an Argentine politician, businessman, and economist. He was also a musician in the rock band Everest and, in his early years, a goalkeeper for the local professional football club Chacarita Juniors.
Later, he worked in financial companies, taught at universities both in Argentina and abroad, and authored several books.
The politician describes himself as an "anarcho-capitalist," advocating for the non-intervention of the state in economic activities.
Photo: Argentina's new leader describes himself as an "anarcho-capitalist" (Getty Images)
He became widely known through his regular appearances on television, where he criticized the government.
He also founded his own electoral coalition, La Libertad Avanza (Freedom Advances). Since 2021, Milei has been a deputy in the parliament from Buenos Aires, pledging not to vote for tax increases or new taxes.
During his campaign, he used the slogan "I didn't come here to lead lambs but to awaken lions," condemning the "political caste," which he described as "useless, parasitic politicians who have never worked."
What is known about his position
The new President of Argentina does not support the idea of the country joining the BRICS group (an intergovernmental association including Brazil, Russia, India, China, and South Africa).
He advocates for minimal state intervention in citizens' lives, supports the right to bear arms, and wants to abolish the Central Bank, proposing to replace the national currency with the US dollar. The eccentric politician specifically called for "abandoning the sick peso for the US dollar" and promised to burn the Central Bank to end the "cancer of inflation."
During the campaign, he announced plans to sever ties with "communist" governments in Russia, China, and Brazil.
Milei is also against abortions, even in cases of rape. When asked about a case of abortion after the rape of a 10-year-old girl, he stated that abortion under such circumstances is still considered murder.
Regarding global warming, Milei denies its existence, stating that it is an "invention of cultural Marxism."
The eccentric politician earned the nickname "el Peluca" (The Wig) due to his unusual hairstyle. He has repeatedly stated that he "doesn't comb his hair," drawing significant media attention to his hairstyle.
Regarding his personal life, he mentioned in an interview with La Nación that he is a "advocate of free love" and is not married. He does not have children
Photo: Javier was dubbed the "chainsaw economist" after he stood in a car during one of the pre-election events, waving a chainsaw (Getty Images)
Most remembered for his flamboyant image, Milei gained attention at the beginning of the election campaign when he appeared on stage with a running chainsaw, symbolizing the radical changes he plans to implement in the country suffering from economic problems.
Comparisons with Trump
The 53-year-old TikTok star with disheveled hair and thick sideburns has been compared to former US President Donald Trump and former Brazilian President Jair Bolsonaro.
Donald Trump has already congratulated the new leader of Argentina, stating that he "is proud of" his victory. "Congratulations to Javier Milei on a great race for President of Argentina. The whole world was watching! I am very proud of you. You will turn your Country around and truly Make Argentina Great Again!" wrote Trump, who intends to participate in the US elections in 2024.
In turn, Milei does not hide his sympathies for the 45th US president. He has referred to Trump as "one of the best presidents in the history of the United States."
Views on Ukraine
Notably, the new President of Argentina has promised to sever ties with Russia. He strongly supports Ukraine in its struggle against Russian aggression. At the beginning of the full-scale Russian invasion, he participated in an event in support of Ukrainians.
"I brought the Ukrainian flag (to Congress), basically because those of us who support the ideas of freedom, cannot tolerate or support an invasion like Russia has done in Ukraine," he declared at that time.
In an interview with The Economist, he expressed his desire to meet with Ukrainian leader Volodymyr Zelenskyy as the President of Argentina, and he referred to Vladimir Putin as an "autocrat."
"Those of us who defend the ideas of freedom cannot tolerate or accept an invasion like Russia has done to Ukraine," claimed Milei.
In September 2023, the politician participated in an event organized by the Ukrainian Embassy in Argentina. He posed for a photo with the Ukrainian Ambassador Yuriy Klymenko, holding sheets of paper with slogans in support of Ukraine, with the inscription "We are with Ukraine" in his hands. However, it's worth noting that all presidential candidates in Argentina made a similar gesture at that time.
President of Ukraine Volodymyr Zelenskyy has already congratulated Milei on his election. "Congratulations on his convincing victory in the presidential elections of Argentina. I am grateful for a clear position in support of Ukraine. We will work together on the development of Ukrainian-Argentinian cooperation and the restoration of the world legal order based on international law," he wrote on social media.