New battle field: Expert on strategic importance of attack on Russian headquarters in Sevastopol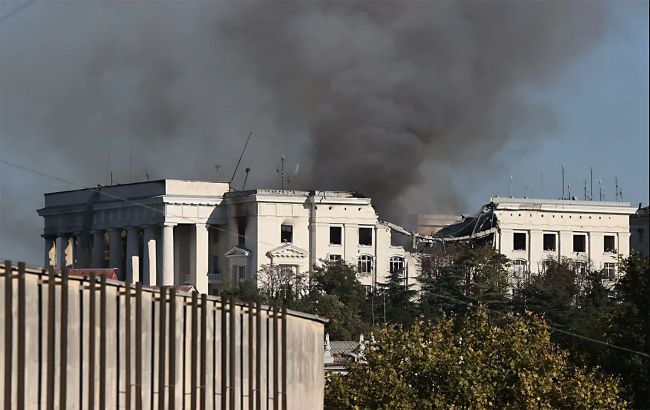 Russian Black Sean fleet headquarters eliminated (Russian media)
The attack on the Russian Navy's headquarters in Sevastopol sets the stage for a new battle for Crimea. Constant explosions will disrupt the management of Russian troops.
More about it in the RBC-Ukraine article.
Vladyslav Seleznov, a military expert and former chief of the General Staff's press service, reveals the strategic importance of this strike. First, the elimination of the command will unbalance military control, and second, the occupiers will need time to restore reliable communication.
"And we understand that if strikes on the headquarters have already occurred twice, such 'thuds' will continue in the future. Judging by the recent dates, alarms and explosions are constantly happening over Sevastopol and in various parts of Crimea. So, the Ukrainian army is preparing the ground for a new battle," he said.
At the same time, he refrains from predicting an imminent de-occupation of Crimea by Ukraine.
"I do not have access to the General Staff's plans, and it's challenging for me to envision how this could be realized," he told RBC-Ukraine.
Strike on headquarters
On September 22, a missile strike was executed on the headquarters of the Russian Black Sea Fleet in Sevastopol.
According to Ukrainian sources, 34 officers were eliminated, including Vice Admiral Viktor Sokolov, the commander of Russia's Black Sea Fleet. Additionally, 105 occupiers sustained injuries, and the headquarters building is beyond repair. Notably, the strike was precise, and the occupation authorities claimed there were no civilian casualties.
The elimination of Sokolov is significant in its own right, as the last Russian fleet commander to die in wartime was Vice Admiral Stepan Makarov in 1904.
However, the Russian Ministry of Defense released photos of Sokolov attending a meeting with Sergei Shoigu yesterday. Therefore, details regarding his elimination are still being clarified.
According to General Oleksandr Tarnavskyi, the commander of the Tavria operational-strategic group, strikes on Russians in Crimea and Sevastopol are crucial for the success of the Ukrainian counteroffensive. This is because the success of such an operation depends not only on destroying the enemy directly in front but also on targeting areas of equipment concentration, personnel, and command centers.