Netherlands to provide Ukraine with about 1,000 remote demining units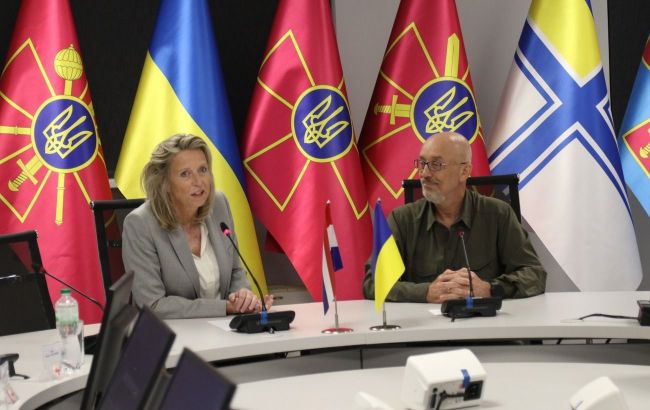 Minister of Defense of the Netherlands Kajsa Ollongren and Minister of Defense of Ukraine Oleksii Reznikov (Photo: mil.gov.ua)
The Netherlands has decided to provide the Ukrainian military with approximately a thousand remote detonation units. These units will assist in breaking through the Russian defense lines, according to the statement by the Minister of Defense of the Netherlands, Kajsa Ollongren, during a meeting with her Ukrainian counterpart, Oleksii Reznikov, cited by the press service of the Ministry of Defense of Ukraine.
"Currently, as far as I know, you are dealing with the issue of heavily mined areas. There is a solution to provide around a thousand portable units for remote detonation, which can create passages through engineering obstacles," the official stated.
She also emphasized that her country would continue to work towards fulfilling all of Ukraine's needs, including in terms of air defense systems that were critically important for preserving the lives of Ukrainians.
"We were very pleased to announce another step in strengthening air defense, namely the transfer of F-16 fighter jets. We have already agreed on training programs for Ukrainian pilots. We plan to start training at the training center in Romania, and we have F-16s available for training," Ollongren explained.
Mine-laying by Russia in Ukraine
Since the beginning of summer, Ukrainian forces have been continuing counter-offensives on certain segments of the frontlines. One of the obstacles to their advancement is the minefields set up by the occupiers.
As the German Minister of Foreign Affairs, Annalena Baerbock, pointed out today, the area that had been mined in Ukraine can be compared in size to Western Germany.
The German official also mentioned that Ukraine had requested equipment from Germany for demining territories.