National Bank eases currency restrictions: How it will affect the dollar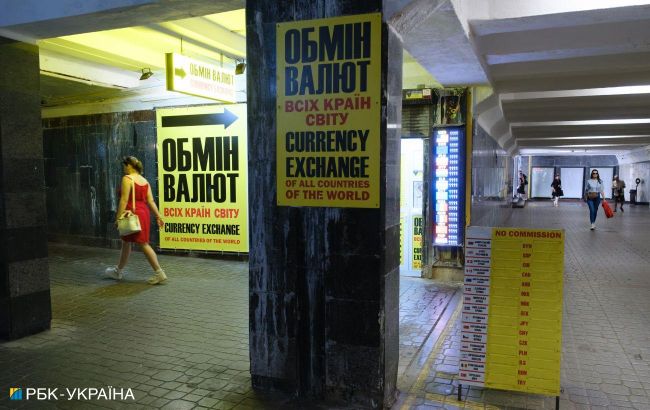 Dollar may fall after the National Bank of Ukraine eases currency restrictions (Phoro: RBC-Ukraine, Vitalii Nosach)
The National Bank of Ukraine (NBU) has eased restrictions on banks selling non-cash currency to the population. This move could lead to a decrease in the dollar exchange rate in the cash market, which has significantly increased recently.
Specifically, starting from August 29, the NBU allowed banks to sell non-cash currency to a population up to 50,000 hryvnias without additional obligations.
Additionally, the NBU increased the monthly limit for purchasing non-cash currency with subsequent placement on a deposit for at least three months from 100,000 hryvnias to 200,000 hryvnias. After the deposit term, this currency can be withdrawn in cash. The transactions will be conducted at the exchange rate set by the banks.
Currency restrictions and permission for purchasing non-cash currency Since the beginning of the war, the NBU prohibited banks from selling non-cash currency to the population. However, from July 21, 2022, the regulator slightly eased the restrictions and allowed the purchase of cash up to 50,000 hryvnias, but with the condition of further depositing it for at least three months without the possibility of early withdrawal. Later, the limit was increased to 100,000 hryvnias.
Banks sell dollars to the population at the interbank rate, supported by NBU interventions. This is the official rate of 36.57 hryvnias per dollar plus 1%. However, banks may also charge additional fees. Therefore, purchasing currency can be done at a rate close to 37.50 hryvnias.
This instrument was popular in the second half of 2022 when the exchange rate on the cash market reached 41-42 hryvnias per dollar. The benefit from deposit placement reached 10%. However, the rate started to decrease, and in February-March 2023, it fell below 40 hryvnias. Consequently, the population began withdrawing dollars from deposits and converting them into cash.
Starting from May 2023, the population withdraws more non-cash currency than it places on deposits.
Dollar exchange rate
In June-July, the dollar exchange rate dropped to 37.30-37.50, making these operations no longer profitable. Meanwhile, the rate increased by 1 hryvnia in August to 38.50 hryvnias. Therefore, purchasing non-cash currency could be advantageous for the population again.
Banks can purchase non-cash currency from the NBU at 36.93 hryvnias per dollar. Then, they will add their commission and will be able to sell currency to the population at a rate close to 37.50 hryvnias. As a result, the exchange rate in the cash currency market could again drop to this level.