NATO identifies Russia as one of the main threats, prepares counteraction plan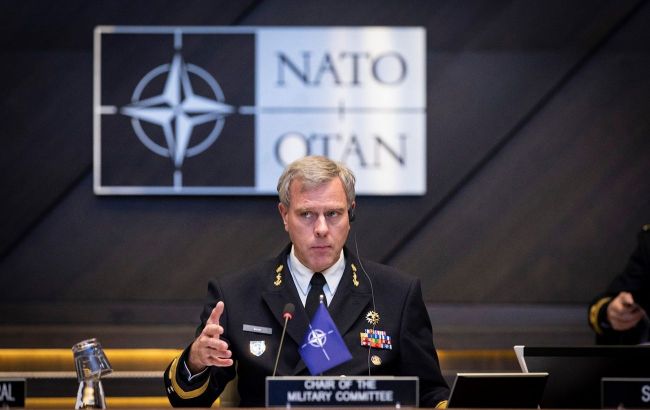 Chair of NATO's Military Committee Admiral Rob Bauer (Twitter)
At the NATO summit in Vilnius, allies prepared regional plans for containment and protection against the Russian Federation and terrorist groups as the two main threats of the Alliance, according to Chair of NATO's Military Committee Admiral Rob Bauer, Ukrinform reports.
During his speech at the Warsaw Security Forum, he noted that these regional plans were developed by the commanders of joint forces under the supervision of the Supreme Allied Commander Europe.
What NATO's regional plans include
Bauer explained that these plans "connected to how to restrain and protect against two threats NATO faces - Russia and terrorist groups."
"And these plans were developed and agreed upon by the leaders in Vilnius," he added.
According to the admiral, the regional plans include "what needs to be done to restrain and protect against these two adversaries, these two threats."
Bauer also mentioned that earlier, at the NATO summit in Madrid, leaders had decided to increase combat groups on the eastern flank. In addition to the existing 4 groups in Poland and the Baltic nations, 4 more were formed in Slovakia, Hungary, Romania, and Bulgaria.
Over the course of the year, these four combat groups were reinforced from battalion to brigade level.
Strengthening NATO's defense over Russian threat
The head of NATO's Military Committee told about the decision to increase the rapid reaction force to 300,000 military personnel capable of deployment within the first 30 days.
According to him, such a number of servicemen should be sufficient for NATO in case of the onset of a "major conflict with Russia."
Additionally, he noted the need to increase industrial production capacity, which would require significant investments.
As Bauer stated, Russia's full-scale military aggression against Ukraine demonstrated the need for NATO to improve integrated air and missile defense.
He believes that within the next 10 years, most NATO member states will invest "significant funds" in strengthening their missile defense capabilities.
"Speaking of air defense, there are two things one can do. One can wait until the missiles reach you and then shoot them down. This would require a lot of missiles, as we see in Ukraine. And we're talking not just about missiles, but also drones, used more and more frequently. Or one can use missiles and other complexes to destroy the systems from which the Russians launch these missiles at you, which is quite effective because then they won't have anything to shoot from," said the head of NATO's Military Committee.
NATO's defense plans
Regional plans consist of thousands of pages of classified military plans describing how NATO will respond to a Russian attack. The Alliance provides recommendations to countries on the modernization of their armed forces and material-technical support.
It was previously reported that NATO defense ministers could not reach an agreement on new Alliance response plans to a Russian attack. Türkiye blocked the decision due to the wording of geographic locations, including those related to Cyprus.
However, on July 10, just one day before the Vilnius summit, NATO overcame Türkiye's blockade and reached an agreement on defense plans that detail how the Alliance would respond to a Russian attack.