NATO elected new Chair of NATO Military Committee: He expressed support for Ukraine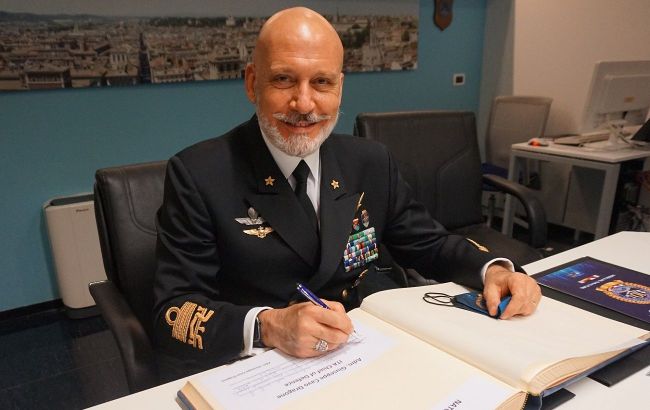 Admiral Dragone elected as Chair of the NATO Military Committee (Photo: mscoe.org)
The defense ministers of NATO member countries have extended the mandate of the current Chairman of the NATO Military Committee, Admiral Rob Bauer, for another six months and have also chosen his successor, Admiral Giuseppe Cavo Dragone, the Chief of Defense of Italy, NATO press service reported.
This decision was made during a conference of the Military Committee in Oslo on September 16, as reported by NATO's press service.
They also emphasized the need for continuity in leadership "in a volatile security climate and amidst the largest reinforcement of the Alliance's collective defense since the Cold War."
"NATO will be able to offer its full support to Ukraine and the challenges that are looming on an international scale," following the election, Admiral Cavodragone stated.
Admiral Bauer intended to "keep unifying north, south, east, west, large and small within our Alliance and to actively reach out to NATO's Partners around the world."
The release also mentions that this decision will allow Admiral Cavodragone to serve as Italy's Minister of Defense until November 2024.
Role of the Chairman of the NATO Military Committee
The Chairman of the NATO Military Committee represents the consensus views of all NATO Chiefs of Defense (CHOD) as the principal military advisor to the Secretary General, the North Atlantic Council, and other senior NATO bodies.
They also manage the agenda and discussions of the Military Committee, listening to national positions or political differences and working on advice everyone can agree on.
Leadership of NATO
NATO has been led by Jens Stoltenberg since 2014. His term was initially set to end on September 30, 2022, but it was extended for another year in March 2022 due to Russia's full-scale invasion of Ukraine.
Stoltenberg announced in February that he would not seek an extension of his contract. However, NATO members asked him to reconsider this decision after they could not agree on his successor.
On July 4, NATO members in Vilnius agreed to extend his mandate as NATO Secretary General for another year until October 1, 2024. Stoltenberg mentioned that his mandate as NATO Secretary General would not be extended beyond October 2024.