Movie legend Michael Caine retires: 5 best roles and upcoming film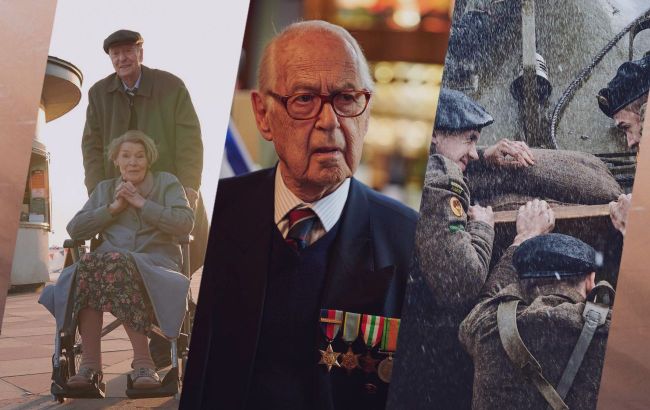 RBC-Ukraine collage
This October, theaters all over the world are releasing the film "The Great Escaper." The lead role in the movie is played by the famous actor Michael Caine, who has earned two Oscars, three Golden Globes, and two BAFTA awards.
As we prepare to witness the latest appearance of this great actor on the screen, RBC-Ukraine recalls his top five roles, as evaluated by critics and Michael Caine himself.
Sources used in the creation of this article: The Telegraph, The Guardian, Arena, Entertainment Weekly, Variety, Looper, and Empire.
Hannah and Her Sisters (1986)
Michael Caine has been nominated for an Oscar six times, but he won his first statuette for Best Supporting Actor in 1986 for his performance in "Hannah and Her Sisters." The critically acclaimed comedy-drama directed by Woody Allen explores complex relationships within a dysfunctional New York family.
Caine played the role of Elliot, a conflicted and charismatic man grappling with midlife crisis, betrayal, and mortality. His subtle yet powerful portrayal allows viewers to empathize with the character despite his questionable actions. Caine's ability to blend vulnerability with charm and wit creates a multi-dimensional character that captivates audiences from start to finish.
"I took this role to gain some comedic experience, to show people that I can also perform in the comedy genre. Woody choosing me for the role made me a respectable comedy actor," Caine said in an interview with Arena magazine in 1988.
Even 26 years after the film's premiere, The Guardian described Caine's performance as "so nuanced, so painfully committed that it only gains strength and touching sincerity over the years."
The Cider House Rules (1999)
Caine won his second Oscar for Best Supporting Actor in 1999 for his role in "The Cider House Rules." The film depicts the debate over abortion rights through Caine's character, Dr. Larch, who helps women with abortions, defying the law.
The movie is based on the eponymous novel by John Irving. Interestingly, Caine read the book only after receiving the script and couldn't believe that the filmmakers managed to adapt its 600 pages for the screen.
"I read the book and said to myself, 'There's no way this can be turned into a screenplay!' But I knew it could because it was sitting on my desk, and I'd already promised to make the damn film," the actor recalled in one of his interviews.
Incidentally, John Irving, the author of the source material, also worked on the film's screenplay, explaining, "As the author of the novel, I could be much more ruthless about my work than a kindly screenwriter who loves the book and wants to be faithful to it in all respects." Irving also won an Oscar for Best Adapted Screenplay for the film.
In addition to the golden statuette, Caine's role as Dr. Larch also earned him a Screen Actors Guild Award for Best Supporting Actor, along with nominations for the Golden Globe and BAFTA awards.
Educating Rita (1983)
Caine did receive a BAFTA award and a Golden Globe for Best Actor in 1983 for his role in the film "Educating Rita". This time, the actor portrayed Professor Bryant, who struggles with alcoholism after a divorce from his wife. Despite his personal issues, Dr. Bryant helps a woman named Rita realize her academic potential.
This adaptation of Willy Russell's play became a major success in the UK and marked Caine's transition into more serious and dramatic roles.
Julie Walters, who played the lead role, later recalled that they had considered several actors for the role of Bryant, but ultimately chose Caine.
"You're so lucky it's Michael," Caine's wife told her at the time.
"She meant other people of that ilk who were stars, but weren't as simple as Michael. But he was brilliant, so generous to me," the actress explained.
La giovinezza (2015)
In the dramatic film directed by Oscar-winning Italian filmmaker Paolo Sorrentino, Michael Caine plays retired conductor Fred Ballinger. Alongside his old friend, portrayed by Harvey Keitel, Caine's character reflects on his life's accomplishments in the backdrop of the Swiss Alps, offering stunning visuals for the audience.
"Youth" stands as one of Caine's finest works in the last two decades (as well as for Keitel, who matches him in skill). The film has a bittersweet tone, and Caine's acting beautifully mirrors the film's title, ironically suggesting that one must go through life's experiences and contemplations to fully appreciate it.
"Secretly, I think it's the best thing I've ever done. It was the most challenging thing, and the criterion for that is that I made it look as easy as possible," Caine admitted in one of his interviews.
The Man Who Would Be King (1975)
One of the most notable aspects of "The Man Who Would Be King," an adaptation of Rudyard Kipling's story, is its fantastic ensemble cast, with three main characters played by Sean Connery, Michael Caine, and Christopher Plummer. The film is considered one of the best works of the legendary John Huston.
Set in the 1880s, the story follows two British soldiers who journey to the land of Kafiristan and attempt to establish themselves as rulers after one of them is mistaken for a god. It's a spectacular and captivating film that critiques British colonialism while maintaining humor, making it a classic of the 1970s that's worth watching for anyone who appreciates Michael Caine or adventure films in general.
As noted by Empire magazine, "it could be argued that this is the best work any of the actors ever did." Even if it's not Caine's best film in his career, it's certainly one of his best performances.
Batman: The Beginning and Collaboration with Nolan
Known for his intricate plots and epic visual decisions, director Christopher Nolan has collaborated with Michael Caine numerous times. In their joint creative portfolio, there are eight full-length films, and they are considered one of the strongest director-actor duos of recent times, as most of their works have been praised by both critics and audiences.
They began their collaboration in 2005 with Nolan's immensely popular film, "Batman: The Beginning," in which Caine played the role of Batman's loyal butler, Alfred Pennyworth. Since then, the pair has continued to work together consistently, with Nolan often offering Caine smaller roles in each individual project he directed after the success of "Batman: The Beginning." From a stage engineer in "The Prestige," where he assists in developing tricks for two rival magicians played by Hugh Jackman and Christian Bale, to a cameo appearance in "Tenet." However, even with his character having not much screen time, Caine still manages to leave a lasting impression, and in each new Nolan project, fans eagerly anticipate the appearance of the star actor.
However, back in 2005, when Nolan was just getting started with the franchise reboot, the director had to work to convince the actor he wanted to see in this role.
In an interview with Variety, Caine revealed how Nolan persuaded him to play Alfred, promising the legendary actor that it would not be an ungrateful role. Caine explained that it all began with a simple knock on the door of his countryside home. Standing on the doorstep was none other than Nolan, who, according to Caine, "stood with a script in hand and said he was the director."
"He asked, 'May I come in?' and said to me, 'I want you to play the butler in 'Batman.'' I replied, 'The butler? What will I say, 'Dinner is served?' He replied, 'No, he was Batman's godfather, and that's a much more important role. This is the first thing I can remember about Christopher Nolan,'" Caine said.
Summing up his role as Alfred, Caine stated in the interview that playing this character in films was "absolutely fantastic."
About "The Great Escaper"
Based on real events, this film tells the story of a veteran who secretly leaves his nursing home to visit the anniversary of the Allies' landing in France.
But his quiet escape doesn't go unnoticed: the man's disappearance causes a real commotion in his hometown, and he becomes the center of attention worldwide.
Caine is known for his distinctive Cockney accent (a characteristic English dialect primarily spoken by the working class, which led to early career predictions of failure), and he has appeared in over 160 films over eight decades of his career. He is one of two actors (the other being Jack Nicholson) who were nominated for an Oscar in the 1960s, 1970s, 1980s, 1990s, and 2000s and is considered an icon of British cinema.
"The Great Escaper" is the famous actor's last film before retirement; at the age of 90, he recently confirmed in an interview with The Telegraph that he made the decision to end his career.