Most countries see Ukraine in NATO, those who doubt it rely on Biden's decision - President Zelenskyy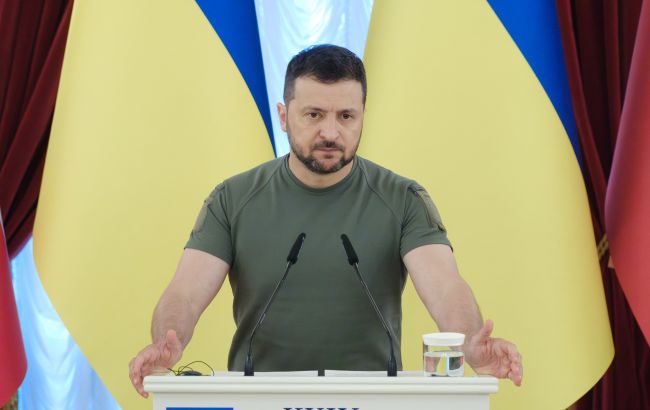 Photo: President of Ukraine Volodymyr Zelenskyy (RBC-Ukraine, Vitaliy Nosach)
The majority of countries support Ukraine's accession to NATO, those who have doubts rely only on the decision of U.S. President Joe Biden, reports Ukrainian President Volodymyr Zelenskyy in an interview with CNN.
He stated that Ukraine would find it difficult to survive without U.S. assistance, and this is a fact. The president emphasized the need always to acknowledge absolute facts.
According to Zelenskyy, Russia's war against Ukraine would turn into a frozen conflict without U.S. assistance. With the help of the United States, Ukraine can reclaim its territory. The president noted that the liberation of each subsequent city weakens Putin, and there is no need to fear it.

Zelenskyy mentioned that the U.S. is currently deciding whether to invite Ukraine to join NATO.

"Most NATO countries support inviting Ukraine to NATO. Those who have doubts are looking only at President Biden. President Biden knows that it depends on him, and it will be his decision," he added.
The president also emphasized that it is up to Biden to make a decision regarding Ukraine in the coming days. He added that he has a great relationship with the U.S. president.

"He supports our future in NATO, but right now we are talking about very important motivation of our soldiers. The invitation to NATO is a technical matter, just a formulation. It is important; it will push our soldiers towards rapid liberation through mobilization," he said.

At the same time, Zelenskyy stressed that Ukraine understands it cannot become a member of the Alliance until the war is over.

"But this signal is very important, and it depends on Biden," the president added.

Ukraine's accession to NATO
Ukraine seeks to receive a signal of support for its NATO membership after the war at the upcoming NATO summit in Vilnius on July 11-12.

Zelenskyy believes that the country needs explicit guarantees of joining the Alliance, after which Russian dictator Vladimir Putin will weaken further and be forced to negotiate with the West.

Moreover, NATO Secretary General Jens Stoltenberg stated that partners at the summit would decide on Ukraine's rapprochement with the Alliance.
Recently, White House spokesperson Karine Jean-Pierre stated that Ukraine needs to implement reforms to meet NATO standards before joining the Alliance.