More weapons on the way: West reacts to Ukraine's success in counteroffensive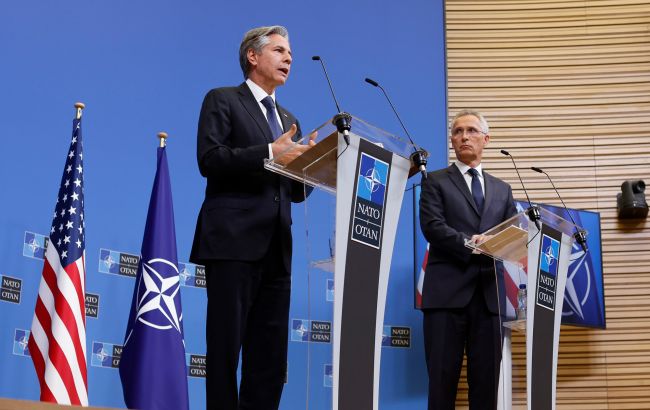 Photo: U.S. Secretary of State Anthony Blinken and NATO Secretary General Jens Stoltenberg (gov)
The Ukrainian counteroffensive has begun, with several settlements liberated in different directions. At the same time, the Western leaders actively commented on the actions of the Armed Forces of Ukraine.
The following digest contains the statements from partners about the counteroffensive collected by RBC-Ukraine.
Ukraine's political leadership and military officials have announced a counteroffensive since the spring. President Volodymyr Zelenskyy first declared full readiness on June 3.
"We firmly believe that we can achieve this. I don't know how much time it will take. Honestly, it can take different paths, completely different ones. But we decided to do it, and we are ready," he revealed in an interview with The Wall Street Journal.
According to him, despite Ukraine having yet to receive all the expected weaponry from Western partners, there are other options than waiting. He possibly hinted at combat aviation, emphasizing that Russia still holds an advantage in the sky and the lack of air support would increase Ukrainian losses.
Russia announced the start of the Ukrainian Armed Forces' counteroffensive on June 4. However, Kyiv had denied this throughout the past week, although on June 5, the Ministry of Defense declared a shift to offensive operations on various fronts. The British intelligence also confirmed an intensification of activities in multiple areas.
Secretary of the National Security and Defense Council of Ukraine Oleksiy Danilov believes that Russians mistakenly interpreted the Ukrainian Armed Forces' advance as the beginning of a major offensive operation. He added that when the counteroffensive begins, "everyone will see it." As of June 13, over the week of fighting, Lobkove, Levadne, and Novodarivka villages in the Zaporizhzhia region, as well as Neskuchne, Storozhove, Makarivka, and Blahodatne in Donetsk, have been liberated.
Reactions to the changing situation on the front are already emerging in the West.
US refrains from predictions
The White House disagrees with Zelenskyy's assessment of the quantity of weapons delivered. According to John Kirby, US President's administration spokesperson, allies have provided air defense systems, armored vehicles, artillery, and ammunition for the counteroffensive.
Mark Milley, United States Chairman of the Joint Chiefs of Staff, highlights the importance of modern tanks, artillery, and trained infantry in the counteroffensive. Biden will "at some point" meet with Chinese President Xi Jinping, according to Jake Sullivan, who expects the Ukrainian counteroffensive to reclaim strategically important territory.
"Exactly how much, in what places, that will be up to developments on the ground as the Ukrainians get this counteroffensive underway," Sullivan said. "But we believe that the Ukrainians will meet with success in this counteroffensive.
Despite Ukraine's readiness, Milley believes the war will continue for an extended period. US Secretary of Defense Lloyd Austin states that success depends on identifying the enemy's weaknesses in defense.
Brigades equipped with Western technology are involved in the offensive in the Zaporizhzhia region. Washington is preparing a $325 million package, including armored vehicles, to replace damaged ones during the counteroffensive.
This week, Austin will meet with NATO defense ministers in Brussels and hold another meeting of the Contact Group to discuss supporting the Ukrainian army.
US Secretary of State, Antony Blinken, hopes the counteroffensive's success will strengthen Ukraine's position and force Putin to engage in peace negotiations.
At the upcoming NATO Summit in Vilnius, allies will announce strong political and practical support for Ukraine.
Britain believes in Crimea liberation in 2023
According to British Defense Secretary Ben Wallace, Ukrainian forces could liberate the occupied Crimea as early as this year. This is mainly due to Russia's decreasing arsenal.
The Washington Post reported that US intelligence documents suggest that the American intelligence community expects Ukraine to achieve modest successes in its counteroffensive. However, Wallace holds a more optimistic view.
"What we've seen on the battlefield is that, if you punch Russian forces in the wrong place, they'll actually collapse," he said. "You can send young men to die in their tens of thousands, which is what they do, but you can magic up tanks and weapons systems that they need," he explained.
NATO believes Ukraine has received the necessary weapons
NATO Secretary General Jens Stoltenberg is confident that Ukraine has the required weapons to liberate its territory. However, the outcome of any war remains unpredictable, and no one can forecast the conclusion of the counteroffensive.
"What we know is that Ukraine has been provided with opportunities, weapons, ammunition, as well as training from NATO member countries and other allies... They are already in place to provide Ukrainians with the capabilities needed to liberate more territory," he emphasized.
According to Stoltenberg, Ukraine has previously demonstrated its ability to push back Russian forces in the north and the Kharkiv and Kherson regions. He added that allies would continue strengthening Ukraine'sUkraine's position on the front line to ensure Putin's loss in the war.
France sees possibilities for peace
French President Emmanuel Macron sees future conditions for peace between Ukraine and Russia. He believes the West must intensify efforts and assist by all means for a successful counteroffensive.
"Because what will happen in the coming months will provide an opportunity even for a solid peace," he said at the end of May.
Macron recently stated that the Ukrainian side has carefully planned the operation, which could last for several weeks or months.
"We have done everything to help implement it within the framework we have outlined since the beginning of the war: to punish Russia to stop its military efforts, to help Ukraine resist and reclaim territory," added the French leader.
Denmark to provide ammunition for the counteroffensive
Amid news of the Ukrainian Armed Forces' progress, Danish Minister of Foreign Affairs Lars Løkke Rasmussen announced the transfer of approximately 2,000 artillery shells to Ukraine, worth $36 million. According to him, the Ukrainian army particularly needs ammunition for the counteroffensive.
"The situation is such that we all see that a counteroffensive has been announced. It is already underway. Ukraine has managed to hold back the Russians; now it's time to respond in kind. For this, they need the necessary capabilities, including ammunition," he noted.
Meanwhile, Danish Minister of Defense Troels Lund Poulsen acknowledged that supplying such a batch would not solve the problem of ammunition shortage for Ukraine but would only manage one immediate issue. Therefore, the country intends to increase ammunition production.
Germany to increase tank supplies
This week, German media reported that Ukraine requested more Leopard 2 tanks for the counteroffensive. According to First Deputy Minister for Foreign Affairs Andriy Melnyk, each tank is worth its weight in gold in a decisive battle. He also noted that the Bundeswehr could provide far more tanks than the 18 units that have already been transferred. Considering the stockpile of 300 tanks, the number of tanks provided could be tripled without risking Germany's ability to defend itself, Melnyk believes.
According to ntv, some German politicians are confident that Berlin should immediately replace all damaged equipment, including combat tanks and armored personnel carriers, and deliver additional ammunition.
Today, Minister of Defence Boris Pistorius stated that Germany could not replace every damaged or lost Leopard 2 tank.
"But we will continue to supply more renovated Leopard 1 A5 tanks from July. And by the end of the year, there will be over 100 of them," he added.