Modi, Xi Jinping and Putin to discuss Iran and Belarus' accession to Shanghai Cooperation Organization group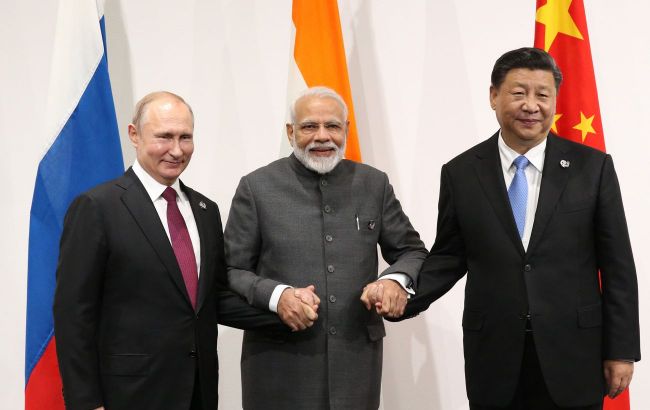 Photo: Putin, Xi Jinping, and Modi (Getty Images)
Leaders of the Shanghai Cooperation Organization (SCO) will hold an online summit today, organized by India, to expand the influence of the Eurasian group by including Iran and open the way for Belarus' membership, according to Reuters.
Chinese President Xi Jinping and Russian President Vladimir Putin will participate in the virtual summit, which will be Putin's first appearance at an international event since suppressing the Wagner mercenary group's coup attempt at the end of June.
Established in 2001 by China and Russia, the SCO consists of eight members and is a political and security group aimed at countering Western influence in Eurasia. It initially included former Soviet Central Asian states; later, India and Pakistan joined.
While Iran is expected to be accepted as a member, Belarus will sign a memorandum of obligations leading to its membership later. When both countries with observer status and close ties with Moscow become SCO members, it will expand the group's western flank in Europe and Asia.
The summit comes just two weeks after U.S. President Joe Biden received Indian Prime Minister Narendra Modi on a state visit, and the two countries called themselves "among the closest partners in the world."
India, which currently chairs the SCO and G20 this year, walks a diplomatic tightrope as relations between Western countries and the Russian-Chinese partnership have been strained due to Moscow's invasion of Ukraine last year and Beijing's assertive global presence.
Putin spoke with Modi last week to discuss the consequences of suppressing the mercenary coup. During the discussion, Modi once again called for dialogue and diplomacy to resolve the war in Ukraine.
Last year, on the sidelines of a summit in Uzbekistan, Modi told Putin that this is not an era of war and that India is the country that has come closest to resolving the war issue directly with the Russian leader.
Russian Oil
It is expected that both Putin and Xi will visit New Delhi in September when India hosts the G20 summit, where Biden and leaders of other member countries are likely to be present as well.
India has refrained from accusing Russia of waging war against Ukraine and has increased bilateral trade primarily by raising purchases of Russian oil to record levels, which has caused dissatisfaction among several Western capitals.
China - India relations
At the summit on Tuesday, Modi will hold a virtual meeting with Xi for the first time since November when the two leaders were present at the G20 summit in Indonesia.
The relationship between the two Asian nuclear-armed giants has been cold for over three years as they have been engaged in a standoff along their Himalayan border.
The summit will also allow Modi to meet face-to-face with his Pakistani counterpart, Shehbaz Sharif, after ten months since they both attended the SCO summit in Uzbekistan.
Last month, New Delhi announced that the summit would occur virtually without providing any justifications. At the meeting, India will hand over the chairmanship to Kazakhstan.
The SCO member states are expected to discuss, among other things, Afghanistan, terrorism, regional security, climate change, and access to digital technologies.
The foreign ministers of the SCO member states met in the Indian coastal resort state of Goa in May, which ended with old rivals India and Pakistan exchanging barbs over Kashmir, terrorism, and deteriorating bilateral relations.
Shanghai Cooperation Organization
The Shanghai Cooperation Organization (SCO) is an international organization founded in 2001, including the following members: China, Russia, Kazakhstan, Kyrgyzstan, Tajikistan, Uzbekistan, India Pakistan, the last two, joined the organization in 2017.
In addition to these full members, there are a number of observer countries (such as Afghanistan, Iran, Belarus, and Mongolia) and dialogue partner countries (including Sri Lanka and Turkey).