Missile fragments found in lake in Moldova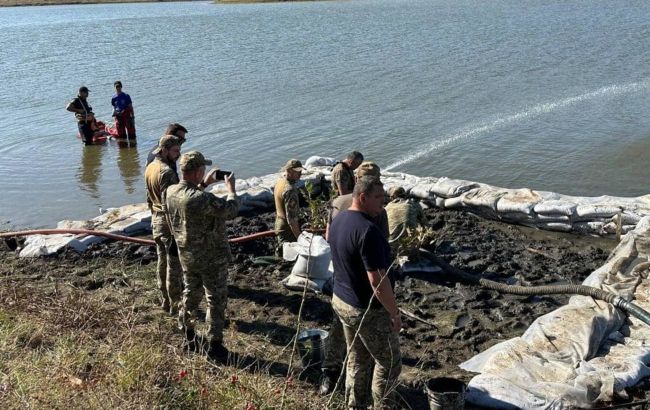 Missile fragments found in a lake in Moldova (facebook.com/MinisterulAfacerilorInterneRM)
Residents of the village noticed certain fragments in the lake that could have originated from a missile, possibly having crashed in the area. Authorities have confirmed that the debris is indeed from an aerial missile, the type and origin of which is still being determined by experts.
Important: the village is located less than 40 kilometers from the border with Ukraine.
Photo: Missile debris found in a lake in Moldova (facebook.com/MinisterulAfacerilorInterneRM)

The Moldovan Inspectorate for Emergency Situations has said that the missile fragments in the lake were discovered on September 27.
Special safety measures have been implemented in the vicinity of the lake near the village, as there are suspicions that explosive components from the crashed missile may be at the lake's bottom.
Photo: Missile debris found in a lake in Moldova (newsmaker.md)
Currently, the area is off-limits to the public, and the police are guarding the perimeter. National police, the State Emergency Service, military personnel, and border police are all on-site. They began their work yesterday but suspended it overnight. On the morning of September 28, the search for all parts of the missile resumed.
Experts are searching for the best solution to safely remove any explosives if they are found at the lake's bottom. Hydrotechnical experts are pumping water from the lake to facilitate the work of pyrotechnicians.
Moldova's Minister of Internal Affairs, Adrian Efros, has also arrived at the scene.
The Ministry of Internal Affairs emphasizes that there is no danger to the population as the area is isolated and the nearest houses are located 1 kilometer away from the hazardous zone.
Missile debris in Moldova
This is not the first instance of missile fragments being found in Moldova following Russian shelling of Ukrainian territory.
On September 25, in the unrecognized region of Transnistria (part of Moldova), fragments of an S-300 missile were found. They fell in one of the gardens in the village of Kitskany. According to preliminary information, no casualties were reported.
Russian missiles can also cross the borders of other countries, such as Moldova and Romania. The Ukrainian Air Force has said that Russia launches missiles near the borders of other countries to provoke Ukraine.