Ministry of Health reminded the hotlines for psychological support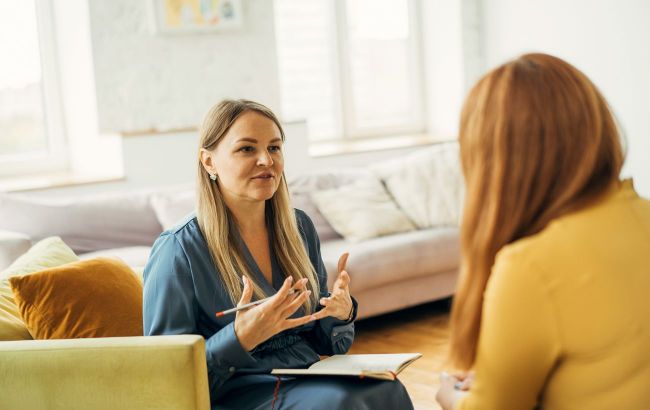 The Ministry of Health has reminded the hotline numbers for psychological support (photo: Getty Images)
According to the results of the audit on the population's needs for mental health services, nearly half of Ukraine's population requires psychological assistance, states the Ministry of Health.
"40-50% of Ukraine's population will require psychological support of varying intensity - this is indicated by the results of an audit of the population's needs for mental health services conducted last year as part of the All-Ukrainian program," the Ministry of Health reported.
Furthermore, according to the ministry's data, every other Ukrainian today feels emotionally worse than they did three years ago.
"However, people often do not seek help from professionals," the ministry added.According to the Ministry of Health, the reasons can be various, ranging from the stigma surrounding mental health to a simple lack of time or finances.
Nevertheless, it is possible to receive counseling or simply talk to another person in difficult times and share your concerns for free, even without leaving home.
List of free "hotlines" operating in Ukraine:
0 800 60 20 19 - Ministry of Health contact center.
1547 - Government hotline.
0 800 33 20 29 - Support line for veterans and their family members from the Ukrainian Veterans Foundation (operates 24/7).
0 800 100 102 - National Psychological Association hotline.
0 800 210 160 - Human in Need international humanitarian organization hotline.
(044) 456 17 02, (044) 456 17 25 - Kyiv City Center for Psychiatric and Psychological Crisis Assistance hotlines.
0 800 211 444 - Emotional support hotline from the International Organization for Migration.
0 800 500 335 (from mobile or landline) and 116 123 (from mobile) - La Strada-Ukraine NGO hotline.
"All consultations are provided anonymously and confidentially," emphasized the Ministry of Health.
Psychological support for teenagers
"Adolescents are among the most vulnerable people right now. In addition to the incomprehensibility of the world around them, war, and stress, they are going through important changes inside and seeking their path," explained the ministry.
However, despite their vulnerability, teenagers may not seek help from their loved ones, considering themselves mature enough, but they also need support.
The ministry noted that if parents, for certain reasons (lack of trustful relationships with the teenage child, incompetence in psychology, stress, etc.), are unable to provide support and help with the situation at hand, it is advisable to seek the assistance of professionals.
"It is important for anyone, especially teenagers, not to be left alone with their emotions," emphasized the Ministry of Health.
Reliable channels of psychological support:
National Psychological Association Helpline - 0 800 100 102 (10:00-20:00 daily, toll-free calls),

PORUCH - a joint project of the Ministry of Education and Science of Ukraine, UNICEF, the Ukrainian Institute of Cognitive Behavioral Therapy, and the NGO "VGC "Volunteer." Within the project, there are online therapeutic support groups for teenagers,

Teenergizer - a movement that unites teenagers from the Eastern European and Central Asian region. On the website, you can sign up for a free consultation with psychologists and consultants,

La Strada National Hotline for Children and Youth - here, children, teenagers, and students can receive anonymous and confidential support in any difficult life situations - 0 800 500 225 (from mobile or landline) or 116 111 (from mobile).

"Ne Dribnytsy" - a safe space for teenagers that provides free online consultations via a chatbot (psychologists provide consultations, not automated mechanisms).

"Holos Ditey" - a phone hotline for psychological support for children and parents. You can also schedule in-person consultations if your city is on the list.

"Human in Need" - 0 800 210 160 (anonymous and available 24/7, free from all operators in Ukraine).

Lifeline Ukraine Suicide Prevention Hotline - 7333 (available 24/7).
Ukrainians can receive the assistance of a psychologist and psychiatrist for free. Specialists have launched an online map where you can find the needed doctor.