Military claims seizure of power in Niger: Benin's President heads for negotiations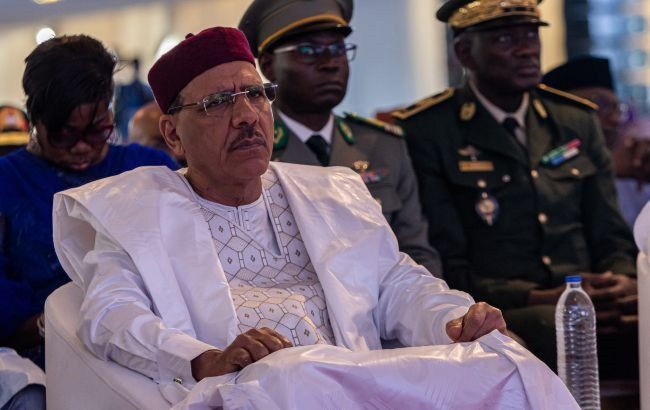 The military in Niger has declared that they have ousted President Mohamed Bazoum's government (Photo: Getty Images)
According to reports from Reuters and AFP, the military in Niger has declared that they have ousted President Mohamed Bazoum's government, and in response, they have closed the borders and imposed a curfew. To mediate the situation, the President of neighboring Benin, Patrice Talon, has traveled to Niger for negotiations.
Neighboring countries have sent a mediation mission to Niger amidst the attempted coup. The presidential security forces continued to hold President Bazoum in his palace in the capital, Niamey, on Wednesday.
President Talon stated that he is heading to Niger to assess the situation after meeting with his Nigerian counterpart and the head of the West African bloc ECOWAS, Bola Tinubu.
Earlier in the day, President Bazoum issued a statement denouncing the "anti-republican" movement initiated by the presidential guard, which was later quelled. There were also reports that the army is ready to attack the rebels if they do not relent.
Soldiers have taken control of all roads leading to the national television station.
The military claims seizure of power
Later, on national television, the Nigerian military announced the ousting of President Mohamed Bazoum's government. The military statement cited the deterioration of security in the country and the "bad economic and social governance" as reasons for taking control, as reported by The Associated Press.
The military further stated that all institutions in the country have been suspended, and the situation in Niger is being controlled by security forces. The soldiers also urged external partners not to interfere in the situation.
Additionally, the military announced the closure of air and land borders and the imposition of a curfew.
U.S. Secretary of State Antony Blinken issued a warning that aid to the affected country depends on "democratic governance."
Earlier on Wednesday, an official representative of the European Union confirmed that negotiations were ongoing, and EU leaders had spoken to President Bazoum twice.
Niger's uprising
President Bazoum had mentioned that on July 26, elements of the presidential guard took part in anti-republican activities and futilely attempted to secure the support of the national armed forces and the national guard.
It was clarified that President Bazoum is "alive and well" and engaged in negotiations with the soldiers involved in the coup attempt.
Later, it was reported that the insurgents refused to release President Bazoum, and the negotiations with the presidential security forces failed. Meanwhile, the country's army did not support the rebels.
It is worth noting that this is not the first instance of soldiers threatening Niger's government.
On March 1, 2021, officers attempted to overthrow Mahamadou Issoufou, just two days before the inauguration of Mohamed Bazoum.