MFA on Russia's proposals regarding territorial concessions: 'Don't even think about it'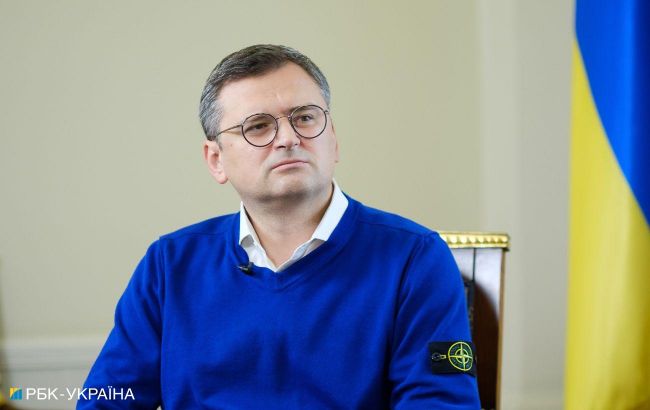 Photo: Dmytro Kuleba, Minister of Foreign Affairs of Ukraine (Vitalii Nosach, RBC-Ukraine)
Ukrainian Minister of Foreign Affairs, Dmytro Kuleba, in an interview with Forbes, said that Ukraine would never agree to any territorial concessions to Russia. The condition for negotiations to end the war is the complete withdrawal of the aggressor country's troops from Ukrainian territory.
"Until the Ukrainian border guard returns to the last border checkpoint in eastern Ukraine or on Tuzla Island, my message to those who dare to propose any territorial concessions is clear - don't even think about it," Kuleba said.
The Minister emphasized that if anyone dares to discuss such matters with him, they will have an unpleasant conversation.
He added that only the withdrawal of Russian troops from Ukrainian territory can be a condition for starting negotiations between the countries.
"If I see at least the beginning of this withdrawal and am convinced that it is a real withdrawal, not a show, I will understand that they are ready for negotiations," Kuleba noted.
Proposals for territorial concessions
Since the beginning of Russia's full-scale invasion of Ukrainian territory, some officials have received proposals to expedite the end of the war in exchange for territorial concessions by Ukraine. Succumbing to Putin's threats, some officials were willing to cede parts of Ukrainian land to Russia.
However, Ukrainian officials and President Volodymyr Zelenskyy have repeatedly emphasized that territorial concessions by Ukraine will not appease Putin's desires in any way. On the contrary, it would signal to him that his strategy is correct, and he could continue to act in the same manner.
Among the officials who agreed to Russia's conditions was former U.S. President Donald Trump, who stated that he would have negotiated with Russia and allowed it to take parts of Ukrainian territory to avoid a war.
China's special representative, Li Hui, during his tour of Europe, also proposed leaving temporarily occupied Ukrainian territories under Russian control.