Martial law and mobilization to be extended again: Zelenskyy submitted draft laws to the Rada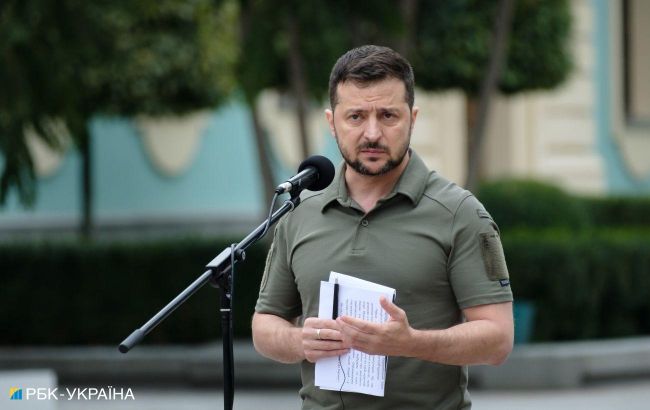 Volodymyr Zelenskyy, President of Ukraine (Vitalii Nosach, RBC-Ukraine)
Ukrainian President Volodymyr Zelenskyy has submitted draft laws to the Verkhovna Rada (Ukraine's parliament) proposing an extension of the martial law and a general mobilization, both set to begin on November 16, 2023, for a further 90 days, referencing draft bills numbered 10211 and 10212.
The proposed bills seek to approve the president's decrees for the extension of the state of war in Ukraine for 90 days from November 16, 2023, starting at 5:30 AM, and the extension of general mobilization for the same duration, also commencing on November 16.
Martial law and mobilization
The Verkhovna Rada initially approved the president's decrees for the martial law and mobilization on the morning of February 24, 2022, for a period of 30 days. Subsequently, these timeframes were consistently extended, initially for a month and later, from May 2022, for three months.
The National Bank of Ukraine and the Cabinet of Ministers now anticipate a significant decrease in security risks at the beginning of 2025. Previously, this was expected to occur by mid-2024.
The fundamental scenario in the October macroeconomic forecast of the National Bank of Ukraine is based on a more conservative assumption than in previous forecasts, stating, "high security risks are expected to persist until the end of 2024," whereas back in July, the National Bank anticipated a significant decrease in these risks in the middle of the following year.
Martial law
During the martial law, the following prohibitions and restrictions may be imposed in the country:
Movement (exit from the country, document checks, curfew).
The right to work and engage in business activities.
The right to privacy of correspondence and telephone conversations.
Freedom of speech, media activities, and political parties.
Conducting elections and referendums.
General mobilization
The General Staff of the Armed Forces of Ukraine determines the scope and sequence of mobilization in the country.
The following categories of conscripts are exempt from military service during mobilization:
Those who were reserved for the period of mobilization and during the state of war.
Those temporarily unfit for military service for up to six months as determined by a medical examination.
Men and women with three or more children under 18 years of age.
Men and women who are single parents of children under 18.
Men and women raising a child with disability under subcategory A, under 18.
Men and women who are caretakers of adults requiring care (in cases where there are no other citizens who can assume this responsibility).
Members of the Verkhovna Rada and the Parliament of the Autonomous Republic of Crimea.
During the martial law, mobilization also does not apply to:
Students receiving pre-higher and higher education, intern assistants, postgraduate students, and doctoral students who study on a full-time or dual form of education.
Scientific and teaching staff at higher and pre-higher education institutions, scientific research institutions and organizations, who hold an academic title and/or academic degree, and teaching staff at general secondary education institutions, provided they work at these institutions as their primary place of employment for not less than 0.75 full-time equivalent.
Women and men whose close relatives (husband, wife, son, daughter, father, mother, grandfather, grandmother, or full or half brother or sister) died or went missing during the Anti-Terrorist Operation (ATO) or Joint Forces Operation .