Majority of Russians support war against Ukraine and oppose returning occupied territories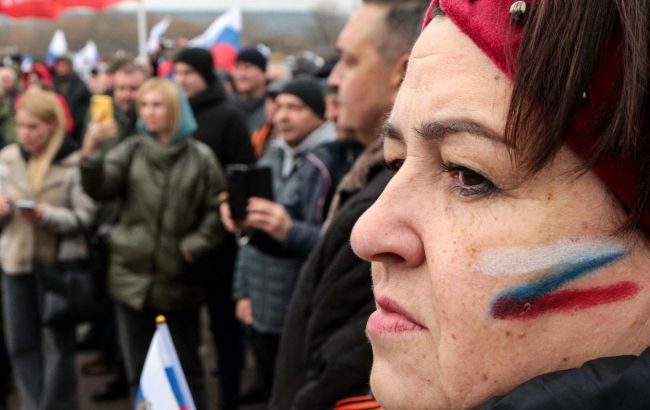 Majority of Russians support war and oppose returning occupied Ukrainian territories (Getty Images)
Russian residents' support for the war against Ukraine has remained consistently high since the start of invasion in February 2022. Half of Russians are interested in negotiations, but only about 20% of respondents are willing to make concessions for the sake of peace, according to a survey conducted by the Levada-Center.
Last August, support for the war remained at 70%, statistically unchanged - 38% unequivocally support it (compared to 45% in July), 32% tend to support it (compared to 30% in July), and 21% do not support it (compared to 18% in July).
As in previous months, there are slightly more proponents of peaceful negotiations than those in favor of continuing military actions. In August, the former accounted for 50% of respondents (compared to 51% in July), while the latter constituted 38% of respondents (compared to 41% in July).
The respondents are mostly unwilling to compromise, with only 20% believing that certain concessions should be made to Ukraine for the sake of ending the war and signing a peace agreement (only 5% are "definitely" willing to make concessions). These sentiments are quite consistent.
The prevailing conditions for a peaceful agreement, as stated by the respondents, include the exchange of prisoners of war (81%) and an immediate ceasefire between Russia and Ukraine (55%). Respondents consider it unacceptable under any circumstances for Ukraine to join NATO (75%), for the self-declared Luhansk and Donetsk People's Republics to return to Ukraine (75%), as well as for the Zaporizhzhia and Kherson regions to return to Ukraine (68%). These perceptions have remained almost unchanged since February 2023.
The Levada-Center conducted this survey from August 24 to 30, 2023, among 1,606 Russians. The research was conducted in respondents' homes through personal interviews. The margin of error (95% confidence) does not exceed 3.4%.