Maidan case: Court sentences five Berkut officers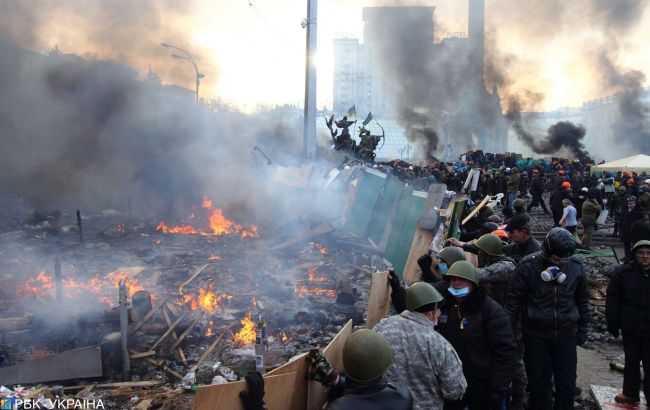 Court sentences five Berkut officers (Vitalii Nosach, RBC-Ukraine)
Kyiv's Sviatoshyn District Court has delivered a verdict in the case related to the shootings on Instytutska Street in February 2014, according to Suspilne.
The court has sentenced Oleh Yanishevskyi, the deputy commander of the Berkut special unit, to life imprisonment, along with stripping him of all his ranks.
Special forces operative Pavlo Abroskin has been sentenced to 15 years in prison with a three-year ban on holding any public office.
Former Berkut member Serhii Zinchenko has received a 15-year sentence for his crimes, accompanied by a three-year prohibition on holding any official positions and his ranks having been revoked.
These three Berkut officers were released from custody in December 2019 as part of a prisoner exchange with Russia. Subsequently, they fled to the aggressor country.
In contrast, two other Berkut officers, Serhii Tamtura and Olexandr Marincheko, who remained in Ukraine, have been acquitted by the court.
Instytutska Street shootings
To recall, on February 20, 2014, on Instytutska Street in Kyiv, Berkut riot police used military firearms equipped with combat ammunition against participants in the protest actions. As a result, 48 participants of the protests were killed, and an additional 90 sustained gunshot wounds.
Officials from the Ministry of Internal Affairs during the presidency of Viktor Yanukovych will face trial in absentia for the illegal import of grenades from Russia, which were used to suppress protests on the Maidan.