Magic atmosphere: Best European Christmas markets to visit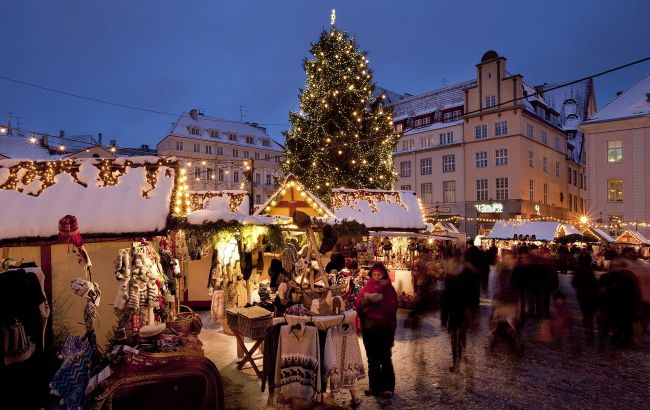 Christmas market in Tallinn, Estonia (all photos: Getty Images)
Europe starts actively preparing for Christmas season and decorating festive locations in November. The European Christmas markets are an indispensable destination for travelers who appreciate the special atmosphere.
Many consider Germany the birthplace of Christmas markets: Striezelmarkt in Dresden was first held in 1434. But other countries are also famous for such locations, and a magic atmosphere will reign in numerous European towns.
Below are the best European Christmas markets to visit this winter.
Basel, Switzerland
Location: Barfüsserplatz and Münsterplatz in the historic Old Town.
Ends on: December 23
In Basel, around 155 wooden stalls are set against the backdrop of the old town, illuminated by sparkling lights. In the historic center, they have already set up a Christmas tree adorned with decorations dedicated to the local legend Johann Vanner, and the stalls are festively decorated.
Here you can purchase handmade gifts and delicacies, and then take a stroll to see the 13-meter Christmas tree at Barfüsserplatz square. You can enjoy aromatic mulled wine and then take a walk along the River Rhine.
Vienna, Austria
Location: Belvedere Palace
Ends on: December 26
The Vienna Christmas market, Wiener Chriskindlemarkt und Weihnachtstraum, is probably the largest and most well-known in Vienna. Tourists from many countries come here for the festive atmosphere.
As an alternative, Tom Marchant, the founder of the European travel company Black Tomato, recommends the Christmas village at Belvedere Palace. Locals love this location, and it's less crowded. You can stroll through the atmosphere of the luxurious baroque architecture of the 18th-century palace while enjoying mulled wine and pastries.
"In this area, you can find many jewelry products by local craftsmen. Carved wood, ceramics, wooden hats, ornaments, dishes - everything you desire," Marchant says.
Strasbourg, France
Location: Grande Île, Old Town
Ends on: December 24
Strasbourg is known to enthusiasts of the holiday as the capital of Christmas. It hosts the oldest Christmas market in France, dating back to 1570.
The city will have 13 markets for guests, all within walking distance of each other. The main one is Christkindelsmärik, which will be located in Broglie Square. There, you can enjoy a glass of French mulled wine, vin chaud, while strolling around the festively decorated stalls near the ancient Gothic cathedral.
Heidelberg, Germany
Location: Old Town
Ends on: December 22
Christmas markets are part of German culture, and by various estimates, there are around 2500 such locations across the country by the end of the year. One of the best places to start exploring the holiday traditions of the region, according to travel experts, is the fairytale city-fortress of Heidelberg.
Heidelberg boasts numerous architectural landmarks, including the Old Town and the 14th-century university, visited by prominent figures. The Neckar River flows through the city, and the Odenwald Forest is nearby.
Heidelberg's Christmas market is set up along the illuminated alleys of the Old Town. The aroma of roasted nuts and pastries, stalls with souvenirs, ice skating on Karlspatz Square, and carousels – what could be better for an unforgettable Christmas weekend?
Tallinn, Estonia
Location: Town Hall Square
Ends on: January 8
For six centuries, a festive Christmas tree has been erected every year in the center of Tallinn's historic Town Hall Square. This year, it will reach a height of 15 meters. A festive market, filled with a holiday atmosphere, is also set up here every year.
Visit Santa Claus's residence right in the square, find handmade decorations and cozy knitted woolen items in the stalls, try local sausages, and for dessert, Estonian gingerbread cookies and cinnamon and cardamom pastries, as well as the signature mulled wine. To conclude your walk, watch the performance of local folklore dancers and musicians.
Edinburgh, Scotland
Location: East Princes Street Garden
Ends on: January 3
Amid famous tourist attractions like Edinburgh Castle and the Victorian monument to Walter Scott, the capital of Scotland hosts a festive market.
During the market and beyond, you can enjoy bird's-eye views from the top of the observation wheel, go ice skating surrounded by 18th-century architecture, taste local drinks and delicacies.
Copenhagen, Denmark
Location: Two venues - Tivoli Gardens and Højbro Plads
Ends on: December 31 and December 21, respectively
Entering Tivoli Gardens in Copenhagen during the holiday season, guests can immerse themselves in the atmosphere of a mysterious Scandinavian village. The 175-year-old theme park is transformed into a Christmas market every year with 60 stalls in a charming setting. There are also wooden stalls decorated with pine cones and snow. The trees in the picturesque garden are adorned with over 70,000 Christmas ornaments.
Just a 10-minute walk away is another festive location, Højbro Plads. Here, 18,000 sparkling lights will shine, and the local cuisine will delight gourmets with local delicacies.