Long-term sanctions on Russia to lead to devastating consequences, warns US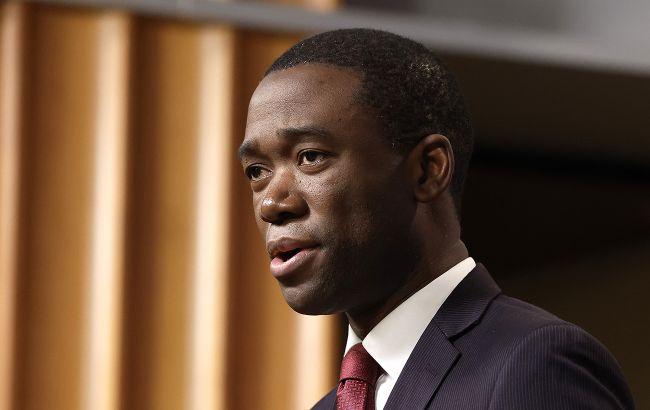 Photo: U.S. Deputy Treasury Secretary, Wally Adeyemo (Getty Images)
Western sanctions against the Kremlin have prompted changes in the taxation of oil sales in Russia due to its war against Ukraine. In the long run, these changes will impact its production capacities and oil extraction, said U.S. Deputy Treasury Secretary, Wally Adeyemo, as cited by Reuters.
In February, Russian dictator Vladimir Putin signed a law fixing the discount on Russia's dominant Urals blend of natural oil to calculate taxes.
This move was made against Russia's ongoing efforts to cover a growing budget deficit due to Western sanctions, particularly the price cap of $60 on oil exports from Russia, imposed by the G7 and the EU in December of last year.
Adeyemo stated that the price cap and sanctions had compelled Russia to alter its tax plan by incorporating a significant discount on Russian oil, the country's most crucial commodity.
"When it comes to the price cap, either Russia continues to accept the steep discount that our actions have imposed on their energy exports, or they institutionalize it themselves with these changes to their tax regime," said the Deputy Treasury Secretary.
Sanctions impact on Russia
The tax changes will restrain Russian oil companies in the future, leaving them with fewer funds for investment in exploration and extraction, gradually diminishing the production potential of the Russian oil sector.
He stated that the sanctions have forced Russia to invest billions of dollars in its oil export system that does not rely on Western services, such as reinsurance.
"This is money the Kremlin cannot invest in tanks and other weapons to fight its illegitimate war in Ukraine," Adeyemo added.
Sanctions against Russian oil
The price cap on crude oil was set on December 5 by G7 countries, including the United States, Canada, and Australia.
It prohibits using services the West provides for shipping cargoes at prices exceeding the $60 per barrel limit.
U.S. Treasury Secretary Janet Yellen stated that this restriction had achieved its goal of keeping Russian oil off the market while limiting Russia's revenues.