Leonardo da Vinci's mistake, experts proved wrong famous theory of the scientist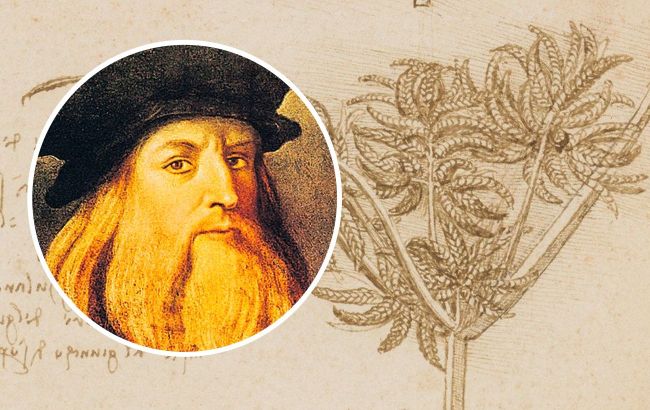 Leonardo da Vinci made a mistake making one theory (collage: RBC-Ukraine)
The researcher and artist Leonardo da Vinci has been considered a genius scientist who was ahead of his time for centuries. But even he made a mistake in developing one of his theories, according to ScienceAlert.
Which theory turned out to be wrong
Leonardo da Vinci made a mistake in his theory about trees. He claimed that all the branches of a tree at each level of its height are equal to the thickness of the trunk when added together.
According to the scientist, this theory would explain how a tree can resist wind and other elements. However, research by modern biologists has refuted this claim.
Scientists explain that Da Vinci took into account only the external characteristics of the tree and did not take into account the internal part, where water is absorbed into internal tubes called xylem.
The size of these channels of the tree's water system is what most interested researchers Stuart Sopp and Ruben Valbuena, co-authors of the scientific article. They studied tree growth models to research how trees respond to drought and store carbon.
"Many biological models [of trees] have since taken inspiration from Leonardo's rule to model both plant exterior branching networks and their vascular systems, despite there being little evidence of the rule occurring consistently," note the researchers.
Notes and drawing of an aspen tree by Leonardo da Vinci (photo: Wikipedia)
Da Vinci's "rule of trees" does not work
According to modern scientists, tree water channels cannot follow da Vinci's "rule of trees". They assume, based on the internal hydraulics of trees, that the vascular channels widen as the branches thin closer to the tops of the trees. This allows the tree to draw enough water up the trunk.
This growth pattern saves the amount of carbon used to create an energy-efficient vascular system. It distributes nutrients from the roots to the leaves.
It should be noted that this scientific idea confirms the theory of metabolic scaling. It also provides insight into why large trees are more susceptible to drought and vulnerable to climate change.
Earlier, we reported that scientists had uncovered a "dark" secret of Leonardo da Vinci's work.