Kyiv awarded special status of 'European Capital of Democracy': Mayor Klitschko states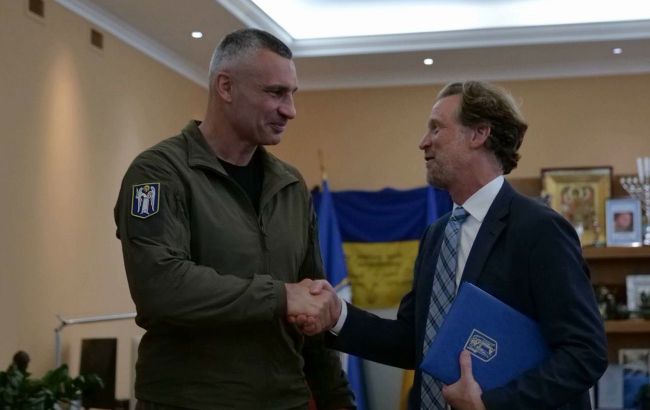 Kyiv Mayor Vitaliy Klitschko (Photo: press service)
Kyiv has joined the "European Capital of Democracy" project and has become a partner with a special status, according to the Mayor of Kyiv, Vitaliy Klitschko, after signing a Memorandum with the founder of the "European Capital of Democracy" (ECoD) initiative, Gelfrid Karl.
"Despite all the challenges of wartime, Kyiv continues to develop electronic democracy and implement tools of civic participation. The Ukrainian capital is adopting the best European practices, successfully introducing beneficial urban services, including electronic democracy. Thanks to this and the Memorandum of Cooperation with the non-governmental organization ECoD that we signed today, Kyiv has become a special partner of the program," stated Klitschko.
He notes that the special status entails collaboration with the ECoD network of cities, which includes Barcelona, Antwerp, Brussels, Cascais, Bologna, and others.
"Kyiv will contribute to the implementation of the Program Year, which includes a series of events aimed at exchanging experiences with successful practices of democratic governance and training," emphasized Klitschko.
The Mayor also notes that Kyiv will become an active participant in important international conferences. In particular, in November of this year in Belgium, Kyiv will participate in a conference discussing the important role of local self-governance for democratic and sustainable development in Ukraine.
Next year, the Ukrainian capital will participate in the ACT NOW Mayors' Conference 2024 and the "Innovations in Politics" congress.
The non-governmental organization ECoD gemeinnützige GmbH (ECoD) was founded by the Institute for Innovation in Politics in Vienna in 2021. It is an independent and non-partisan organization with the patronage of the Secretary General of the Council of Europe, Marija Pejčinović-Burić.
Earlier, Vitaliy Klitschko met with the Secretary General of the intergovernmental coalition "Community of Democracies," Thomas Garrett, and discussed assistance to Ukraine and the issue of excessive centralization of state power in Ukraine, which directly threatens the development of democracy and local self-governance.