Kuleba on EU countries blocking Ukrainian grain imports: playing into Putin's hands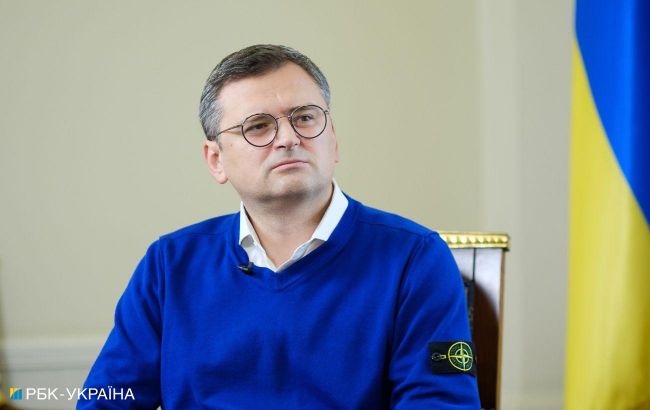 Ukraine's Minister of Foreign Affairs, Dmytro Kuleba (Vitaliy Nosach, RBC-Ukraine)
According to Ukraine's Minister of Foreign Affairs, Dmytro Kuleba, in an interview with France24, the intentions of certain European Union countries to extend restrictions on Ukrainian grain imports after September 15 are unacceptable. Such actions play into the hands of Russian dictator Vladimir Putin.
"It is unacceptable" for Poland, Romania, Hungary, Slovakia and Bulgaria to block Ukraine's agricultural exports beyond a September 15 deadline that was previously agreed. One of the reasons why Russia is destroying Ukrainian agricultural grain infrastructure is because they want to provoke additional tensions between Ukraine and its neighbours. We should not play Putin's game," Kuleba said.
He emphasized that Ukraine is currently working closely with its neighbors to avoid a situation where "Putin will sit in the Kremlin and laugh, watching, for example, Poland or another country insist that Ukrainian grain cannot enter its territory."
The head of the Ministry of Foreign Affairs also stressed that Russia is undermining Ukraine's grain infrastructure, particularly because it wants to provoke additional tensions between Ukraine and its Western neighbors.
Ban on Ukrainian grain exports
In May, the European Commission banned the export of Ukrainian grain to Hungary, Poland, Slovakia, Romania, and Bulgaria. This was due to the fact that such exports significantly affected the domestic markets of those countries, creating problems for local farmers.
The restrictions were initially introduced until June 5, but were extended until September 15.
Back in June, Ukrainian President Volodymyr Zelenskyy stated that the European Commission promised not to extend the restrictions on his country.
However, on July 19, the ministers of Hungary, Poland, Slovakia, Romania, and Bulgaria decided to ask the European Commission to extend the restrictions at least until the end of the year.
It is worth noting that the export of Ukrainian grain complicated Russia's exit from the "grain deal," which the aggressor country announced last week.