Kosovo's President claims Serbia wants to replicate Putin's plan against Ukraine in Balkans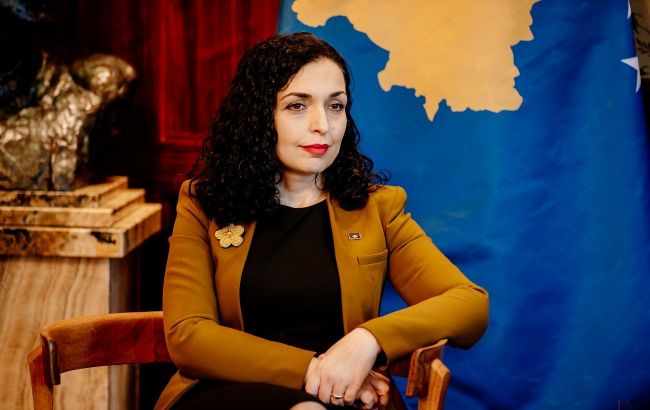 Kosovo's President Vjosa Osmani (photo: flickr.com/vladakg)
Kosovo's President Vjosa Osmani voiced concerns that the Serbian government is attempting to destabilize the situation in the Western Balkans and is trying to replicate a plan similar to the Russian one that the Kremlin executed against Ukraine in 2014, according to "Radio Europa e Lirë".
Indeed, during her visit to Tirana and discussions with Albanian Prime Minister Edi Rama, Kosovo's leader raised accusations against Serbia and its President Aleksandar Vučić for "escalating the situation" in the Western Balkans. She urged democratic states in the region not to allow the implementation of this plan.
"It's not the situation in the north that has aggravated the Kosovo-Serbia dialogue. Serbia itself continuously escalates the situation in our region through successive attacks on Kosovo," she said.
In this context, Osmani referenced the start of Russia's hybrid aggression against Ukraine, Kremlin support for pro-Russian militants and separatists in Donbas, and the occupation of the Crimean Peninsula.
"Hardly a week goes by without someone from Serbia shooting at Kosovo police officers located within Kosovo territory, precisely executing a plan that (Russian dictator Vladimir) Putin implemented in 2014 against Ukraine. Vučić and Serbia aim to destabilize the entire Western Balkans, and through the destabilization of our region, they aim to attack the values and value system that the EU and NATO stand for," President Osmani noted.
However, Osmani did not provide evidence to support her claims. It's also worth noting that Serbian officials have not yet responded to her statements.
The situation in Kosovo
In the northern municipalities of the country, there are approximately 50,000 ethnic Serbs. Local Serbs boycotted the recent mayoral elections in the region, resulting in ethnic Albanians winning the elections. This led to widespread protests and clashes with Kosovo police.
Following these events, the President of Serbia ordered the army to move urgently towards Kosovo. NATO deployed peacekeepers to the region, but nearly a hundred Alliance troops were wounded. Subsequently, the number of NATO troops in the region was increased to 4,500.
It's worth noting that Kosovo's Prime Minister, Albin Kurti, outlined conditions for holding new elections to reduce tension in the region. Additionally, in August, he announced plans to reduce the number of police in the region by 25% as a de-escalation measure.