Kate Middleton makes stylish debut in new title from King Charles III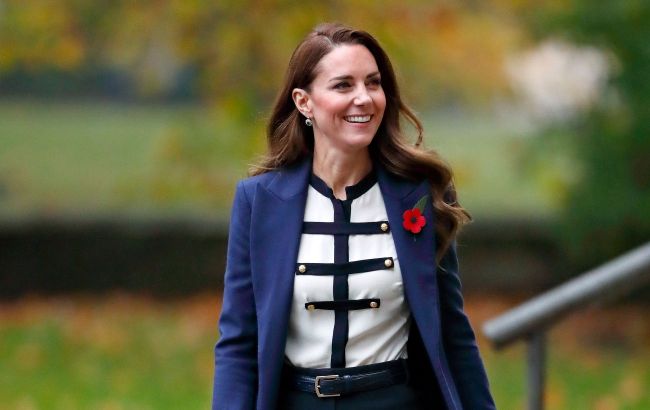 Illustrative photo (Photo: Getty Images)
Kate always captures attention with her outfits because she follows her style and sets trends. However, she also likes to harken back to the times of Princess Diana and use her outfits as inspiration.
RBC-Ukraine shares the details of the royal figure's attire during her visit to the Household Cavalry, based on People.
Kate Middleton debuted in her new title as Princess of Wales by visiting the regiment. It's worth noting that in the summer, King Charles III appointed his daughter-in-law to this new royal position, and at the same time, she became the Commodore-in-Chief of the Fleet Air Arm and the Honorary Air Commodore of the Royal Air Force Coningsby.
For the royal visit, Prince William's wife chose a classic black turtleneck, dark trousers, and her favorite tweed jacket adorned with buttons.
By the way, Middleton's love for tweed jackets knows no bounds, as her collection includes various colors and styles, which the princess occasionally showcases.
Kate Middleton impressed with a new look (Photo: Getty Images)
Kate complemented her outfit with a brooch in the shape of a red poppy. This symbol has been used since 1921 to honor the memory of servicemen who died in the war, and members of the royal family wear this accessory in November as Remembrance Day approaches.
How the meeting went
The Duchess of Cambridge met with the families of QDG personnel to hear about their experiences, including learning about the social support they receive, and to honor the memory of the fallen.
One of the princess's tasks was to present some awards, including medals for long service and good conduct to several men and women serving in the regiment. Additionally, she was responsible for promoting the regiment's mascot, a mountain pony.
She also had the opportunity to wear camouflage and ride in an armored vehicle with the guards.
Kate Middleton impressed with a new look (Photo: Getty Images)