Japan urges Iran not to provide Russia with weapons for war in Ukraine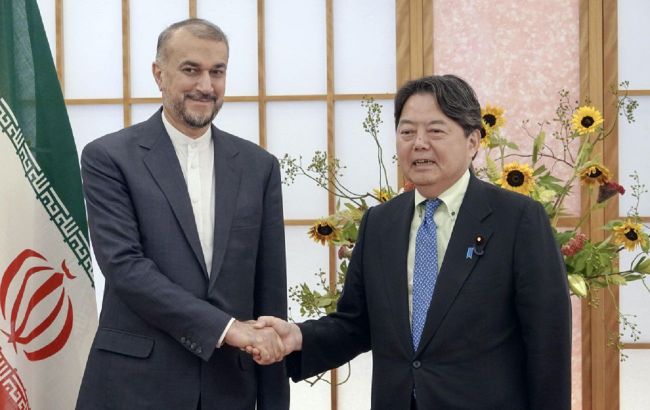 Foreign Ministers of Iran and Japan Hossein Amir Abdollahian and Yoshimasa Hayashi (kyodonews.net)
The head of the Japanese Ministry of Foreign Affairs reaffirmed the country's stance on Russia's full-scale invasion of Ukraine and called on the Iranian representative to provide a "constructive response" to the military aggression by the Kremlin.
Both sides agreed to continue engaging in "close communication" regarding issues concerning the Middle East, as reported by the Japanese Ministry of Foreign Affairs.
The ministers exchanged views on recent developments concerning the nuclear issue in Iran. Hayashi stated that Japan supports the Joint Comprehensive Plan of Action (JCPOA) and is "seriously concerned" about the expansion of nuclear activities by Tehran. He called for constructive measures, including full and unrestricted cooperation within the framework of the Joint Statement between Iran and the International Atomic Energy Agency (IAEA).
In response, Abdollahian said that Iran seeks to restore the JCPOA "through negotiations" and emphasized Tehran's desire to maintain close contacts with Japan on this matter.
As reported by the Kyodo news agency, the negotiations took place against the backdrop of statements by Western countries that Iran is providing military assistance to Russia, such as the transfer of drones and munitions. Meanwhile, Tokyo aims to "utilize its traditional friendship with Tehran to help bring an end to the war."
This year, Japan holds the presidency of the "Group of Seven" (G7), which has maintained economic sanctions against Russia since February of last year due to its war against Ukraine.
Iran's arms supply to Russia

Russia has been actively utilizing Iranian Shahed kamikaze drones to carry out strikes on Ukrainian territory. Western countries have repeatedly claimed that Moscow reached an agreement with Tehran for the supply of drones, although such accusations were initially denied by both sides.
However, following the presentation of concrete evidence regarding the use of Iran-manufactured drones by Russia, Tehran changed its stance and acknowledged its involvement.
According to the UK intelligence, Russia has shifted from receiving small batches of drones from Iran through aerial routes to receiving larger quantities via ships through the Caspian Sea.
Additionally, with the assistance of Tehran, Russia is constructing a plant on its territory for the production of UAVs.
As previously stated by analysts from the US Defense Intelligence Agency, the new plant will provide Russia with a significantly increased supply of drones, which is "orders of magnitude greater" than what it could have acquired from Iran.