Italy's Senate hires Russian woman who openly supports war against Ukraine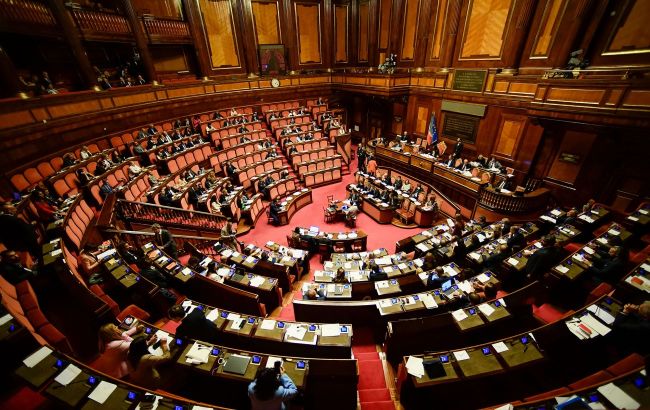 Photo: Illustrative photo (Getty Images)
In the Italian Senate, a Russian woman, Irina Osipova, has been hired. She openly supports Russia's war against Ukraine and has ties to the neo-Nazi group "Rusich", according to the "Current Time" agency.
How the Russian woman secured a job in the Senate
35-year-old Irina Osipova will begin working in the Italian Senate on November 1st. She will hold the position of a parliamentary assistant. Her responsibilities will include database management, classification, and archiving of correspondence in the Senate, as well as administrative and accounting functions, including database consultation.
Local media reports suggest that she will also have access to financial data and dossiers on all important matters.
The personnel selection commission did not inquire about her pro-Russian stance
The agency states that Osipova's political views were not asked during the exams, as this procedure does not include such inquiries.
Paola Binetti, the head of the examination commission, emphasizes that "it would be unfair interference that would create an obvious unfair discrimination."
"As a private individual, you are free to have ideas that best correspond to your political choice and values that you believe in. However, as a public servant, you will not be allowed to spread propaganda," Binetti emphasizes.
Osipova supports Russian dictator Vladimir Putin
Irina Osipova was born in Moscow in 1988 and holds dual citizenship - Russian and Italian. She has publicly expressed support for Putin's policies. For example, on her social media page, she referred to Putin as "a leader without equal in the world," and the Russian regime as "a model for Italy in protecting national interests."
Furthermore, she participated in protests in Italy against European sanctions on Russia imposed in 2014. She also took part in demonstrations in support of the war in Ukraine and criticized Kyiv's policy, referring to it as "Nazi."
In 2015, on her Facebook page, Osipova posted a photo of herself standing alongside the leader of the neo-Nazi group "Rusich", Yan Petrovsky, and his deputy.
Reaction from Ukraine's representatives
Yaroslav Melnyk, the Ambassador of Ukraine to Italy, expressed disappointment at the appointment of a Russian propagandist to the Senate.
"Currently, many institutions, both national and international, are striving to reduce the presence of Russian officials in their structures. This not only poses a threat to the embassy, but the activities of representatives of an aggressor country can also present risks to the institution itself and the country as a whole," explained Melnyk.
Italy-Russia relations and assistance to Ukraine
Italy has supported Ukraine following Russia's full-scale invasion, providing humanitarian and military aid on multiple occasions.
Previously, Italy decided to suspend the "golden visas" for Russian and Belarusian investors, albeit with a delay of over a year.
In late July, Italy's Minister of Defense, Guido Crosetto, suggested the possibility of a political rather than military resolution to the war in Ukraine due to an alleged "deadlock" on the frontlines. This statement received criticism in Ukraine.
Additionally, Italy has engaged two reputable cultural institutions to assist in the restoration of the Spaso-Preobrazhenskyi Cathedral in Odesa, which was shelled by the Russian army last month.