Italmas, or 'Lawnmower': What's known about new Russian drones and how they differ from Shaheds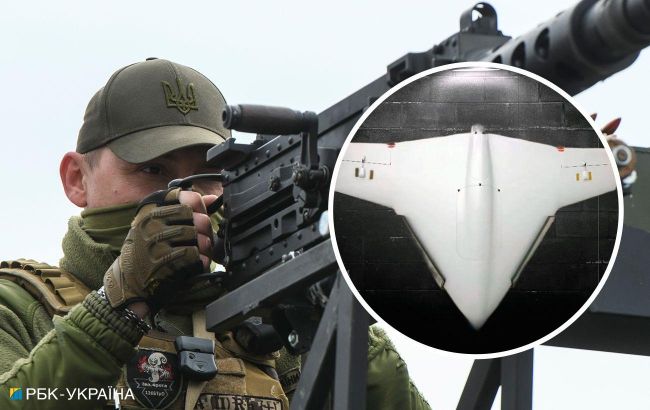 Occupiers have started attacking Ukraine with new kamikaze drones Italmas (Collage by RBC-Ukraine)
Russia, in combined strikes against Ukraine, has likely begun using new drones. They are called Italmas and colloquially referred to as lawnmowers due to their distinctive sound. The occupiers' first use of these drones dates back to October 22.
For more information about the characteristics of Italmas, how they differ from the known Shahed drones, and the threat posed by these new drones, read RBC-Ukraine's material below.
During the preparation of the material, data from sources including Yurii Ihnat, a Spokesperson for the Ukrainian Air Force Command, the Institute for the Study of War (ISW), and an exclusive comment from Defense Express expert Valerii Riabykh were used.
How information about the Italmas drones became known
Defense Express notes that the information about the Italmas drones became known only in September of this year, although the Russians boasted about their testing as early as last winter. It's worth mentioning that discussions about the so-called Heron-3 drone first began in Russia last fall.
And now, after footage of the remnants of a DLE 60-type engine from an unidentified type drone, which was shot down in the Kyiv region at night, emerged, Russians have started spreading information en masse that these were the first deployments of Italmas or Heron-3 drones. Their codename in production is Product 54.
Russian drone Italmas, codenamed Product 54 (Photo: Russian media)
What the Ukrainian Air Force says
Later, this attack was commented on by the Spokesperson of the Ukrainian Air Force Command, Yurii Ihnat. According to him, from the wreckage, it is evident that the enemy is buying engines for drones on AliExpress.
"There are fragments, and it's clear what they are made of. In fact, they've bought engines from AliExpress, and this is how the enemy will use them. It's not the first time they assembled and launched this plane 'from sticks,' as they say, towards our country," Ihnat said.
He emphasizes that these drones still remain dangerous because they can carry several kilograms of explosives.
Opinion of ISW analysts
The Institute for the Study of War (ISW), in its today's review, also suggests that during the attack on the Kyiv region, the occupiers used new Italmas drones and their derivatives in Ukraine for the first time.
Analysts referred to these drones as a "cheaper and lighter" option compared to the well-known Shahed 131/136.
However, as noted by ISW, these drones provide less payload capacity, limiting their utility individually. Therefore, it's not ruled out that the Russians will use Italmas drones in tandem with Shahed drones. It's likely that the Russian army is trying to expand and diversify its drone arsenal.
What is known about Italmas and what threat do they pose
At present, Italmas drones do not pose a significant threat to Ukraine compared to Shahed 131/136 or Lancet. There is limited information available about their use, and the current situation suggests that the Russians want to test these new drones in action while also spreading panic among Ukrainians by instilling fear of this new product.
More about Italmas and their characteristics
More details about the origin of Italmas in Russia, their characteristics, and more were provided by Valerii Riabykh, an expert from the Defense Express portal.
Characteristics
The expert does not rule out that the widespread reports about Italmas are more of an information campaign aimed at spreading the narrative about the capabilities of these drones and Russia's ability to mass-produce them.
"What concerns me more is the narrative about the alleged readiness for mass production of these drones because the aggressor state has actively started promoting this topic in the information space. I have doubts about their ability to produce them on an industrial scale," says Riabykh.
He points out that the data from primary sources, indicating the uniqueness of the drone, which is supposedly based on components manufactured in Russia, doesn't entirely align with reality.
"The same engine that is identified there can be purchased from publicly available sources. It's an engine used in model aviation, and its cost is about $500," Riabykh explained.
Regarding characteristics, it was initially reported from primary sources that Italmas is capable of covering a distance of 200 km and carrying more explosive material than Shahed. However, further examination is needed, as these claims could be part of a Russian narrative.
"If we compare Italmas to Shahed drones, it is more closely aligned with the younger Shahed 131 drone, as indicated by the engine's power," Riabykh emphasizes.
The engine in Shahed 136 is significantly more powerful. When assessing the Italmas engine, it might not be able to carry more than 20 kg of explosive material because its engine is smaller in terms of specifications compared to Shahed 136.
"Sources claim that it may carry around 15 kg of explosive material, and I estimate it to be no more than 20 kg," suggests the expert.
At the same time, he does not dismiss the possibility that Italmas drones could still pose a significant threat and could be used as a complement to the more advanced Lancet drones.
"If the Russians can produce these drones in sufficient quantities, it could become another terrorist threat for areas near the front lines, covering territories at least within a 150 km radius," Riabykh acknowledges.
Italmas vs. Shahed
According to the expert, the reports claiming that Italmas is supposedly "harder to detect and shoot down than Shahed are also part of a Russian narrative.
"These drones produce a similar noise, only on a different frequency. They are just as noisy. The fact that they are smaller in linear dimensions may have some impact on detection, but I don't believe they incorporate any materials that would make them less noticeable in other observation spectrums," Riabykh pointed out.
The distinctive features of such drones are their mass production capability and cost-effectiveness.
"And as I see it, their main purpose is to exhaust our air defense system and inflict maximum damage, especially to civilian infrastructure," Riabykh believes.
How Italmas are manufactured
Regarding the production of Italmas drones, it should not be assumed that it's a purely makeshift method. In principle, these devices are developed by the Russian company ZALA Aero, which has some experience.
"What we see is that, in most cases, they use readily available components for their drones. For instance, the same electric motors used in Lancet drones. And the aforementioned engines, which cost about $500. So, the claims that Italmas can be made anywhere are probably valid. But, to produce these drones, you need personnel and, most importantly, components," the expert explains.
Another Russian psychological operation (PSYOP)
The expert interprets statements about the ease of production of these drones as part of the PSYOP narratives spread by the adversary.
"Because to go from what they are talking about to establishing serial production, the Russians need to cover a long distance, and they still need to overcome it. So, talk comes ahead of action. It is necessary to take threats seriously, but there's no need to panic," Riabykh says.
How to respond to new challenges
According to the expert, it is necessary to identify the supply chains for components, the production sites for these devices, and take appropriate countermeasures to ensure that these information narratives do not become reality.
To summarize, it is essential to monitor how the situation develops further. A single use may be an experimental deployment to assess how the drone performs under real conditions, how far it can fly, whether it can bypass obstacles, including electronic warfare, and how it overcomes air defense systems, according to the expert.
It is not ruled out that the threat of mass deployment of similar devices could be deferred until the possibility of organizing their mass production emerges, which is not evident at the moment.