Inflation in Ukraine slowed to minimum since beginning of 2021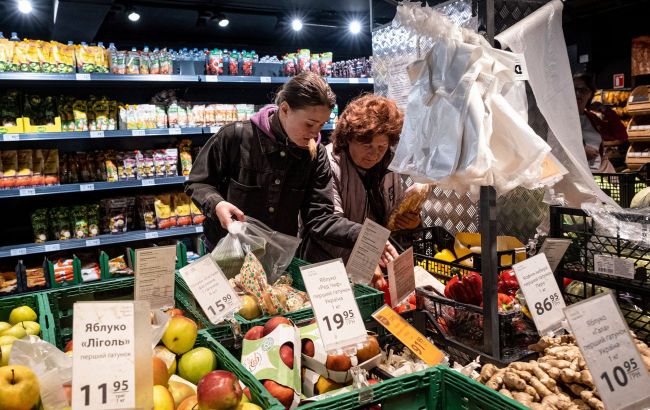 Annual inflation in Ukraine slowed to 7.1% in September (Getty Images)
In September, Ukraine saw a 0.5% increase in consumer prices after two months of deflation. However, the annual inflation rate has slowed to a minimum since the beginning of 2021, according to the State Statistics Service (Derzhstat).
According to the statistical agency's data, prices have risen by 3.0% since the beginning of the year.
Year-on-year inflation (up to September of the previous year) has slowed to 7.1%, marking the lowest level since January 2021.
Prices for goods and services
In September, food products became cheaper by 0.6%. Vegetables saw the most significant decrease, dropping by 9.7%, with an average price 25.1% lower than the previous year.
Fruits also became 5.1% cheaper in a month and 1.2% cheaper compared to September of the previous year.
Sunflower oil saw a 1.6% decrease in price compared to August and an 8.1% decrease compared to September of the previous year.
Eggs became 12.3% more expensive, costing 23.9% more than in September of the previous year.
Among other goods, fuel became significantly more expensive, rising by 4.9% in a month and 6.2% in a year.
The start of the school year led to a 9.9% increase in the cost of education services, which is a traditional trend for September.
Inflation slowdown and forecast for the end of 2023
In July, the National Bank of Ukraine (NBU) significantly improved its inflation forecast. The NBU had expected consumer price growth to reach 10.6% by the end of 2023.
However, Deputy Head of the NBU, Serhii Nikolaichuk, stated that the central bank would further revise its inflation forecast for 2023 by the end of October.
"With regard to inflation, we will definitely revise the forecast for this year downward. Inflation is decreasing faster in recent months than we had anticipated in our July macroeconomic forecast," he said, adding that assumptions and scenarios for the next year are still under consideration.