Illegal attempt to export valuable Scythian artifacts from Ukraine thwarted by customs: Photos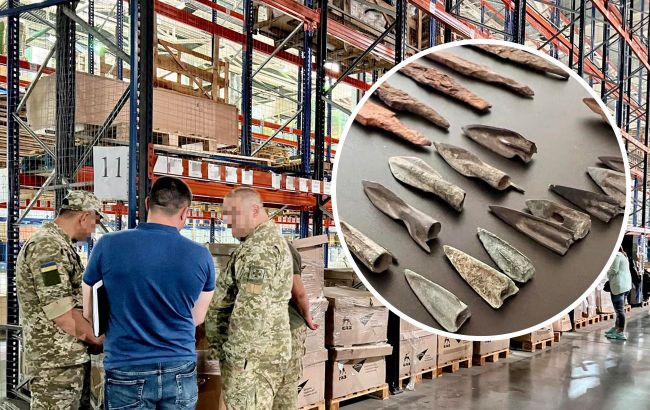 Valuable archaeological finds were tried to send to Germany (Collage: RBC-Ukraine)
Kyiv customs officers discovered a hundred archaeological findings dating from the 8th century BCE to the 13th century CE that were illegally attempting to be sent as a package to Germany. The seized items hold cultural and historical value, including ancient metal weapons, tools, and clothing elements, according to Kyiv Customs.
What is known about the confiscated valuables?
Customs officers reported that during the inspection of international shipments in parcels headed from Cherkasy and Ichnia, Chernihiv region, they had discovered 101 items with clear signs of antiquity.
An examination by the National Museum of Ukrainian History confirmed their status as cultural assets. Among the seized items, they found 15 bronze arrowheads dating from the pre-Scythian to Scythian periods (8th-5th centuries BCE).
"Four copper-bronze chisels date back to the early and middle Bronze Age (3rd to the mid-2nd century BCE). In ancient times, they were used for carving troughs, boats, and other items," the announcement stated.
It is also noted that 54 bronze belt buckles and their fragments belong to the Cherniakhiv culture (3rd to early 5th century CE).
Some artifacts date back to the Scythian period (photo: facebook.com/Kyiv Customs)
In the international shipment, there were nine iron arrowheads attributed to the Saltiv culture (5th-10th centuries CE). Experts also identified 15 other items as iron knives from the time of Kievan Rus (10th-13th centuries CE).
It should be added that archaeological items cannot be sold or collected privately and cannot be taken out of Ukraine without the proper certificate from the Ministry of Culture. Their place is within Ukraine's Museum Fund.
Customs officers confiscated all the cultural and historical valuables from the international shipment.
Some artifacts date back to the Scythian period (photo: facebook.com/Kyiv Customs)