Huge comet heads toward Earth, having exploded twice in four months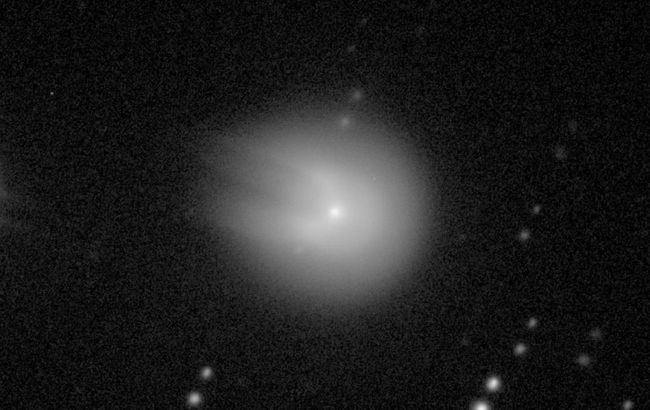 A comet the size of a small city is heading toward Earth (photo: livescience.com)
According to Live Science, a massive volcanic comet the size of a small town has exploded for the second time in four months as it approached the Sun. A cloud of ice and gas resembling a giant pair of horns has formed around the celestial body.
What's known about the comet
The comet, named 12P/Pons-Brooks, is a cryovolcanic or cold volcanic comet. It has a solid core filled with a mixture of ice, dust, and gas known as cryomagma.
When the Sun's radiation heats the comet's innards,"the pressure inside increases, leading to a sudden explosion, ejecting material into space through large cracks in the core's shell.
Astronomers observed a significant outburst from 12P on October 5. Subsequently, it became many times brighter. Over the next few days, the comet expanded even further, developing its distinctive "horns."
Comparison of the brightness of Comet 12P before and after the explosion (photo: livescience.com)
The unusual shape of the comet is linked to its irregularly shaped core.
The comet's trajectory
12P is currently heading toward the inner part of the Solar System, where it will orbit the Sun on its elliptical path. The comet will reach its closest point to Earth on April 21, 2024. At that moment, it will be visible to the naked eye, and scientists will have the opportunity to redirect it back to the outer part of the Solar System. As a result, the comet will not return until 2095.
The comet's position relative to the Earth's location (photo: livescience.com)
As 12P continues its journey towards the Sun, there is a high likelihood that it will explode several more times.
However, 12P is not the only volcanic comet currently under astronomers' observation. Besides it, in the cosmic neighborhood, one can also witness 29P/Schwassmann-Wachmann, the most variable volcanic comet in the Solar System, which has also experienced several notable eruptions in the past year.