How to choose perfect leather pants and stay trendy: Stylist's tips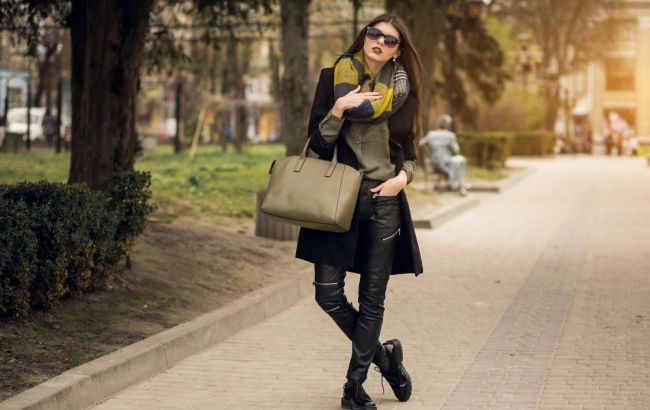 Illustrative photo (Photo: Freepik)
Leather pants became a trend a few years ago and remain one of the favorite wardrobe items for women and young girls. They are comfortable, warm, and almost universally versatile.
RBC-Ukraine guides how to choose leather pants correctly and keep up with the trend, according to the stylist Eliz Gan's Telegram channel, Pocket Stylist.
Why are leather pants so popular?
Leather pants can confidently be called a must-have item in a woman's wardrobe, as they are simply indispensable during cold periods. With their excessive popularity, manufacturers and designers have started developing various styles, making the choice more complex.
However, women are paying more attention to leather pants or leggings. This always looks stylish, attractive, and, most importantly, these pants are comfortable and typically have a warm lining, allowing you to stay warm and comfortable.
How to choose the perfect leather pants (photo: Freepik)
There are various types of leather pants, such as:
Leggings
Classic straight-cut
Flared pants
With slits
They also come in many colors, from black to green. So sometimes, choosing the right pair can be quite challenging, but there are a few useful rules to help you select the perfect leather pants that match your body type and preferences.
How to choose the perfect leather pants (photo: t.me/eliz_gan)
The main rules for selecting leather pants from the stylist include:
You should feel comfortable not only when standing but also when sitting and moving in leather pants.
Choose an item that allows some space between your body and the clothing, as it provides comfort and convenience.
Pay attention to the garment's style, ensuring you check the seams or pockets and the proper attachment of any lining, if present.
The stylist recommends avoiding beige or nude-colored pants if they are too tight. Sometimes, this can look inappropriate.
If you are purchasing an item with the intention of wearing it for more than one season, consider pants with minimal embellishments. This way, they will be much more versatile than those that clearly display their affiliation with a specific trend.
How to choose the perfect leather pants (photo: t.me/eliz_gan)