Hollywood Oscar-winning actor expresses his admiration for Zelenskyy - Video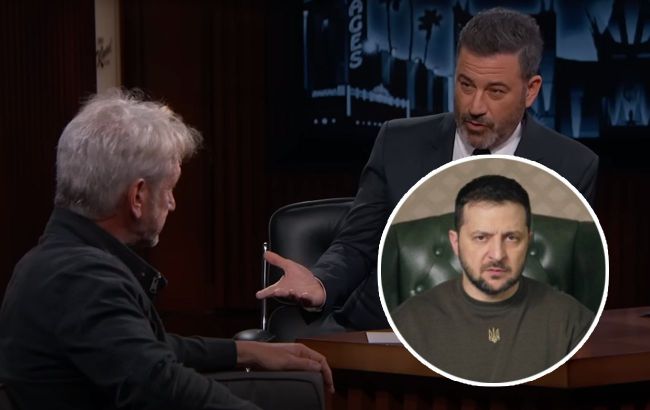 Hollywood actor Sean Penn expressed his admiration for Zelenskyy (Photo: Getty images)
Hollywood's Oscar-winning actor Sean Penn expressed his admiration for Ukraine's President Volodymyr Zelenskyy during an appearance on Jimmy Kimmel Live while discussing his film "Superpower."
What Sean Penn praised Volodymyr Zelenskyy for and the qualities of Mr. Zelenskyy that genuinely impress the Hollywood actor - more in the material by RBC-Ukraine.
Daily Mail article was used in the preparation of the material as the source.
Sean Penn expressed his admiration for Zelenskyy's sincerity
Oscar-winning actor Sean Penn appeared on ABC's talk show to promote the film "Superpower." During Jimmy Kimmel's show, the actor talked about his attitude toward Zelenskyy.
Sean revealed that he met the Ukrainian president face-to-face for the first time to discuss his participation in the filming, and the following day, he heard missiles flying toward Kyiv.
"Then we got a surprising call from the President's office that he was going to continue and have the first session of shooting," Sean explained.
Penn added that they had planned to casually observe the comedic actor who became president and make a film about it. However, at some point, everything went off-script.
During Jimmy's show, it was mentioned that Sean had received a warning from the U.S. State Department to leave Ukraine as it was dangerous. Sean said they were working with the Ukrainian film crew, who had no intention of leaving their country.
Sean Penn talked about what he thinks of Volodymyr Zelenskyy
Jimmy shared a video from a bunker where Zelenskyy said that Russian President Vladimir Putin hates them, and he doesn't know why.
"When he came in that day, in that piece that you showed, it was as though he was born for this moment,' Sean said. 'There is something incredibly genuine about him," Sean commented on Zelenskyy.
Jimmy asked the actor about Zelenskyy's demeanor during their meetings.
"Of any head of state, of any politician, of any head of a large company, there's a time you start to feel the script and the spin,' Sean said. 'There's never a moment with him that's not genuine," the actor said.
Jimmy asked if Volodymyr Zelenskyy had seen the documentary film about him. Sean replied that the president had seen a rough version and remembered when he entered his office; the Ukrainian president had watched it at 6:30 in the morning.
The film "Superpower" premiere took place in February at the Berlin International Film Festival.