'God of Metal' on style: One of world's top musicians dressed in Ukrainian embroidery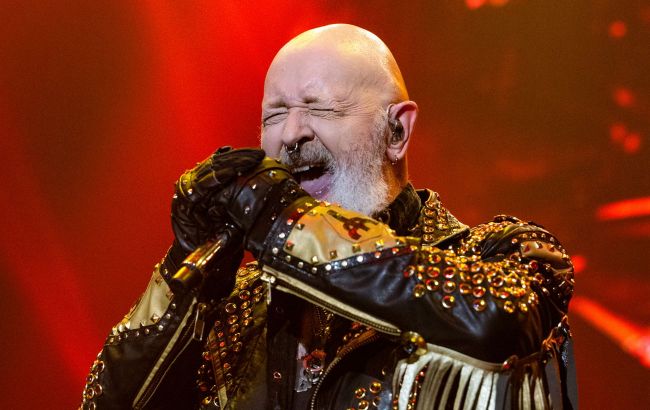 Rob Halford, British rock musician and vocalist of heavy metal band Judas Pries (Photo: Getty Images)
Renowned British musician, songwriter, and heavy metal band Judas Priest's vocalist Rob Halford wore an embroidered shirt from the Ukrainian manufacturer Etnodim, according to a post by Metal Pilgrim on Instagram.
What is known about the embroidered shirt?
It is a black embroidered shirt with a white ornament from the men's collection of the Ethnodim manufacturer. Currently, such a shirt costs 4400 hryvnias in the online store. It is made of linen, embroidered with cotton threads using smooth embroidery.
It is a straight shirt with a stand-up collar, a front slit with a button fastening. The collar and cuffs are also decorated with embroidery.
The embroidery includes crosses, maces, swords, oak leaves, a stylized coat of arms, and others - symbols of courage, strength, struggle, and Ukraine's historical path.
Screenshot
It has also been revealed that this embroidered shirt was presented as a gift to the legendary musician.
"I am so happy my gift has reached the Metal God! And now Rob Halford has a real Vyshyvanka, the tradition of which goes back in centuries and which... is Metal AF! Now this is awesome!" wrote Metal Pilgrim.
About Rob Halford
He is a well-known British rock musician and the vocalist of the heavy metal band Judas Priest.
According to Classic Rock magazine, Halford ranks 9th in the rating of the best rock music leads. He was known as the "Metal God" for his powerful vocal abilities and significant contributions to the development of metal.
He was in his first band at 15, led by a school teacher. After school, he got a job at the Grand Theater in Wolverhampton as a lighting apprentice and played several amateur roles. That's how he developed a desire to perform on stage.
He openly came out as gay in 1998 and has been a supporter of LGBTQ rights.