Germany blocks Ukraine's NATO bid at Vilnius Summit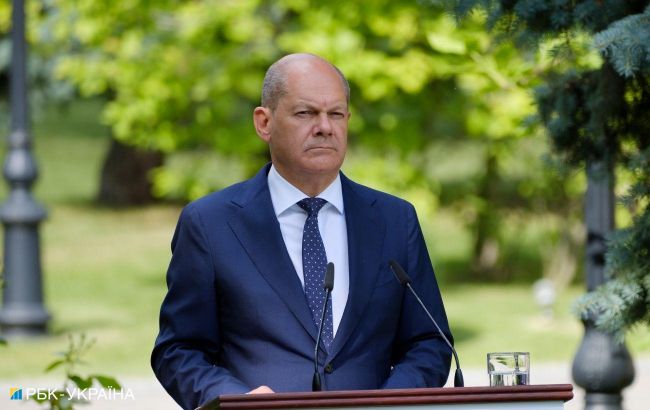 German Chancellor Olaf Scholz (RBC-Ukraine, Vitaliy Nosach)
The main obstacle on Ukraine's path to a political invitation for NATO is the position of Germany and Chancellor Olaf Scholz personally. The US stance on this issue is softer, as RBC-Ukraine reports, referencing to a source familiar with the current closed-door talks.
In particular, the source said that the initial wording of "inviting Ukraine when conditions allow" was proposed by NATO Secretary General Jens Stoltenberg and was later discussed with the Ukrainian side.
On July 9, Germany and the US made their proposals regarding this point of the communiqué, which are much less suitable for Ukraine. In particular, Germany tried to completely exclude the word "invitation" from the text of the final document. However, under pressure from a number of countries, NATO made some compromises.
In particular, Berlin proposed to establish a two-stage procedure by which Ukraine can receive an invitation for membership: when "all conditions are met" and when the allied countries agree that "Ukraine has fulfilled all the criteria" necessary for membership. At the same time, the essence of these "conditions" and "criteria" is supposed to be rather vague.
Throughout Tuesday, the source says, other countries tried to convince Germany to make further concessions, and some progress is indeed taking place.
"In general, today I am already more optimistic than yesterday. The whole struggle is literally just a few words in the formulations," the source said.
During the discussions, Germany emphasizes that drastic steps toward Ukraine's membership may eventually "draw NATO into the Third World War with Russia."
As the source of RBC-Ukraine noted, there are quite high chances that the final communiqué of the summit will be finalized today (at the same time, the problem is not only the wording on Ukraine, but also issues related to Sweden's entry into the Alliance and the Turkish position on this issue).
What preceded
Ukraine expects to receive an invitation to become a member of the Alliance at the NATO summit in Vilnius. Such a measure would become the first step regarding the Euro-Atlantic integration of Ukraine after the Bucharest summit in 2008 when Ukraine was promised that it would join the Alliance.
However, as President Volodymyr Zelenskyy noted today, the final document does not contain any timetable for inviting Ukraine to NATO. The Ukrainian leader criticized the NATO member states.
Later, Spiegel clarified that in the final document of the summit, the leaders of the NATO countries indicated that inviting Ukraine to NATO is possible if certain conditions are met.