German media giant releases map with 'contested' Ukrainian territories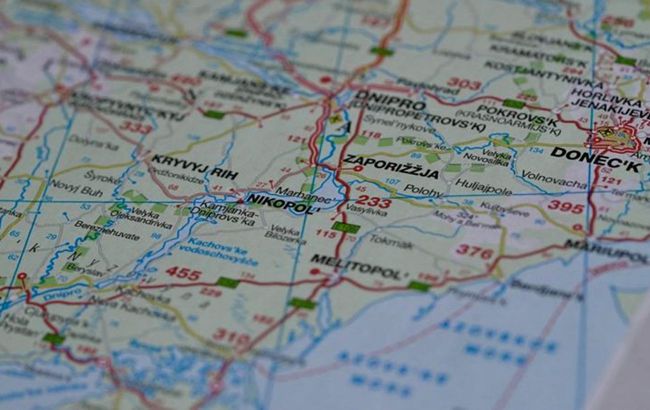 German media giant releases map with 'contested' Ukrainian territories (Photo: mairdumont.com)
The German media giant has released maps on which the occupied parts of Ukraine are marked as "contested territory." These maps, guidebooks, and atlases by MairDumont are supplied to bookstores in Western Europe, reports BBC.
According to the media, a Ukrainian named Nina, who left for Austria due to the war, reported this discovery. In preparation for the new school year, she decided to purchase a geographic atlas for her 12-year-old son. However, when she examined the purchase at home, she couldn't believe her eyes.
The German publisher has released a map with "contested" territories of Ukraine.
"I saw a marking in the middle of Ukraine with a dotted line. At first, I didn't understand what it was, but then I looked at the legend, and it turns out that the east and south of Ukraine are labeled as 'contested territory'," says Nina.
Following Kremlin narratives
The atlas was published by the German publishing house Kunth in 2023. It separates five regions of Ukraine - Zaporizhzhia, Kherson, Donetsk, Luhansk regions, and Crimea - with a dotted line as a territory with a "contested state border." The same dotted line marks the entire eastern border with Russia in the Donbas and Crimea regions.
It's worth noting that the dotted line does not follow the line of military operations but follows the borderline of these regions, which were never completely occupied.
The German company highlighted the very regions that the Kremlin illegally declared as "Russian" in September 2022, in addition to Crimea.
After that, the Russian Federation began issuing maps where all five regions of Ukraine were marked as part of Russia, including Ukrainian cities and villages that were never under Russian occupation.
Legalizing Russian "referendums"
The founder of the "Stop Mapaganda" project, Mykola Holubey, is also outraged by how the German publisher separated Ukrainian territories.
"I am from Zaporizhzhia, it's a huge city. It was never under occupation for a single day; there were no Russian soldiers there. But on Russian maps, it's in Russia, and on German maps, it's on 'contested territory'... Just like Kherson, liberated from the Russians in November 2022. It's also on these maps as 'contested territory.' In my opinion, this is the legalization of the so-called Russian 'referendums' in the fall of 2022," he said.
In total, Holubey visited about 30 bookstores in Germany, Austria, and Switzerland and bought all the maps and guidebooks where, in his words, the territory of Ukraine is depicted incorrectly.
Among the publishers of such products are not only the aforementioned Kunth but also other German brands with a global name, such as ADAC and Marco Polo, as well as the Swiss publisher Kümmerly+Frey.
German MairDumont activity
BBC found that all the aforementioned brands are part of one group - MairDumont GmbH & Co. KG.
This German giant is the largest group of travel guide publishers in the country with its headquarters in Ostfildern.
MairDumont includes more than a dozen companies, including Switzerland's leading travel publisher, Hallwag Kümmerly+Frey, as well as the well-known brand Marco Polo, one of the most popular travel guides in Germany and all of Europe.
Over 100 million Marco Polo travel guides have been sold in 25 years.
"Every fourth travel guide purchased in Germany is Marco Polo," according to the official MairDumont website.
MairDumont's products can be found on the shelves of stores in Western Europe. Their maps and atlases are sold through the largest bookstore chains in Germany, Switzerland, and Austria, which include about 1,000 stores. Their products are also available in bookstores in the United Kingdom.
Error or legalization of Russia's actions?
Klaus Dodds, a professor of geopolitics at the Royal Holloway College in London, believes that these maps in one way or another legitimize the actions of the Russian Federation, as Ukraine already has legal state borders, and there is no dispute.
"Marking a 'contested border' suggests that there is a dispute between countries that needs to be resolved. But in this situation, there is no dispute! Since 1991, it has been entirely clear that Ukraine has certain state borders... So, what are these maps doing? They are, in one way or another, legitimizing Russia's encroachment on Ukrainian territory. This is why it is so dangerous! It is essentially reproducing propaganda by third parties," explains the professor.
MairDumont's position
The company MairDumont has refrained from commenting. Instead, they provided the BBC with the text of an official statement that they had previously sent to the embassies of Ukraine in Switzerland and Germany after a request from Ukrainian diplomats.
MairDumont states that they recognize all five regions as Ukrainian territory but use the dotted line to indicate a de facto conflict zone.
"We consider it our duty to inform our customers about the current situation on the ground in case of conflicts," the statement says.
However, experts disagree with this assertion, stating that if the company truly intended to warn its readers about potential danger, it should have depicted the entire territory of Ukraine as a combat zone and added corresponding markings and explanations. This is not present in the atlases.
Ukraine map scandal
At the beginning of June this year, the government of Hungary released a video that purportedly called for a speedy resolution of the conflict in Ukraine. However, a direct or accidental mistake occurred in the video: the Crimean Peninsula was depicted as part of Russia, not Ukraine.
In official statements, Hungary does not recognize Russia's unlawful annexation of Crimea in 2014.
In response to this provocation, the Ministry of Foreign Affairs of Ukraine stated that Hungary should stop provocations and adhere to its international commitments within the framework of membership in the UN, the EU, and NATO.