Georgian President on the Constitutional Court's decision: I won't resign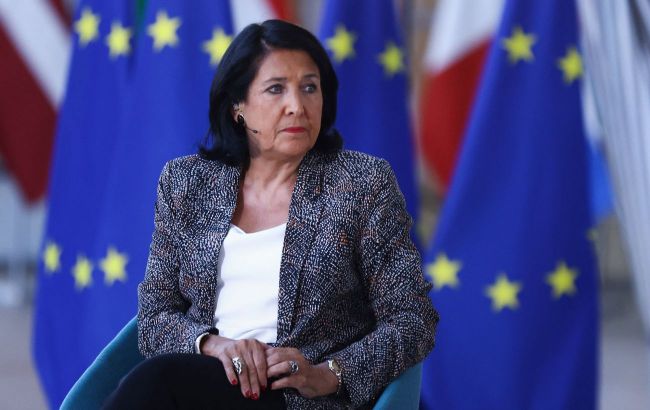 President of Georgia Salome Zourabichvili (photo: Getty Images)
Georgian President Salome Zurabishvili has responded to the decision of the Constitutional Court of Georgia, reports Echo Kavkaza.
Georgian President Salome Zurabishvili has made an extraordinary statement following the remarks by the leader of the ruling party, Irakli Kobakhidze, about her resignation. He made these comments after the Constitutional Court's decision.
"Today, the European future and democracy were killed with one stone. A country in which there is no balance between branches cannot be considered a democratic country. This is an attempt by Dream. Their time has passed. Let them decide for themselves which Salome Zurabishvili was better for them. I'm not interested in that. I'm interested in where I can be more beneficial to this country – as a free politician or as a president who will continue her mandate. The near future will reveal this," said the leader of Georgia.
Zurabishvili reminded voters about Georgia's European future, which she is committed to.
"The entire society is united on this European path, and together we will achieve this result. The first result will come at the end of this year, no matter who tries to hinder it from within. And at the end of the next year, we will reach the next stage. We have a year and a half ahead of us, and we will achieve all of this. Let no one lose hope. We will also achieve free elections. We can do it all together," stated Zurabishvili.
The President announced her intention to be in Parliament when the ruling party holds a vote on her "impeachment."
"I will go to the parliament. I will be there alongside these gentlemen, and I won't need anyone to support me... I will speak if given the opportunity, and if not, I will still speak and say everything that needs to be said," Zurabishvili declared.
The President expressed her gratitude to everyone who supports her and called for everyone to "fight together to the end."
Earlier, we reported that the Constitutional Court of Georgia recognized Zurabishvili's trip to Europe as a violation of the Constitution. Currently, the question of impeachment has been brought up for discussion in the Georgian Parliament.