Fury vs. Ngannou: Fight details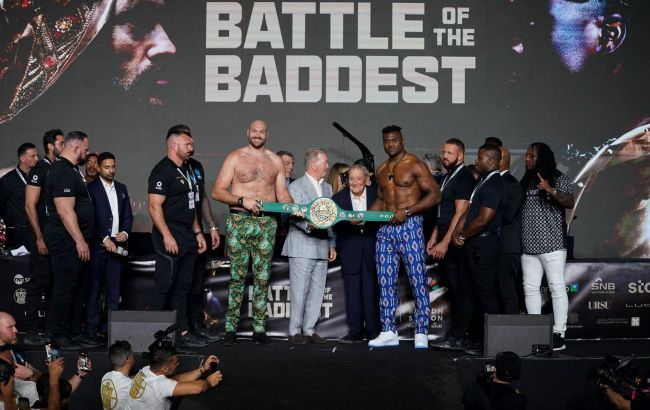 Tyson Fury and Francis Ngannou will face off in the Battle of the Baddest (Photo: queensberry.co.uk)
The World Heavyweight Champion according to the World Boxing Council (WBC), Tyson Fury, will enter the ring against former Ultimate Fighting Championship champion Francis Ngannou.
All the news about the Fury and Ngannou fight can be found in RBC-Ukraine's material.
The Fury vs. Ngannou fight will take place on October 28 in Saudi Arabia. The match will be held in the capital of Riyadh, and it will start no earlier than 23:30 Kyiv time.
Bookmakers' forecast for the Fury vs. Ngannou fight
Tyson Fury is the undisputed favorite in the bout. Betting on Fury's victory at Favbet comes with modest odds of 1.10. Conversely, the odds for Ngannou to win are set at 8.50. The odds for a draw in this unusual boxing match are a remarkable 40.00.
Other details about the Fury vs. Ngannou fight
The fight will consist of 10 rounds following boxing rules. The Riyadh Champion special title belt will be at stake. Even in case of defeat, Tyson Fury will retain his WBC heavyweight title.
Before the fight, both fighters underwent the weigh-in procedure. Tyson Fury weighed in at 125.6 kg, while Francis Ngannou weighed 123.4 kg, making him slightly over two kilograms lighter. Compared to their previous bout, Fury gained nearly four kilograms.
"If I lose to an MMA guy. I'll never be able to show my face in public again. I will be ridiculed and people will throw it on my face every time. So there's more riding on this than there's ever been in my entire career," Fury stated.
"Nobody knows exactly what's going to happen, but what I do know for sure is that I'm going to be out there hunting for this guy's head to take it off, I guarantee you that," Ngannou countered.
For the exhibition fight, both fighters will receive record-breaking earnings. Tyson Fury's guaranteed prize money is estimated at around $50 million, and the "Predator" will enrich himself with $10 million. They will also share the profits from the fight's broadcast.