French Defense Minister arrives in Kyiv to discuss military assistance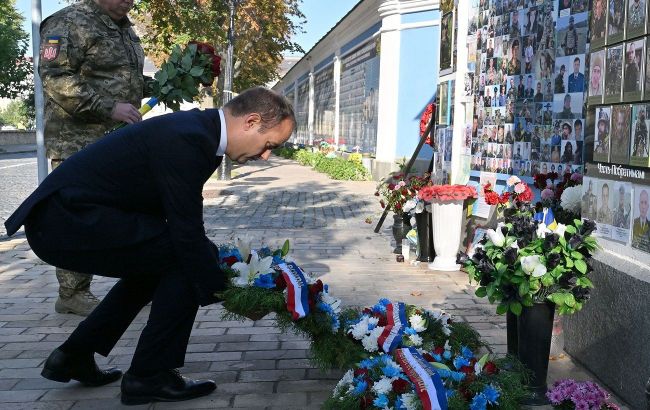 French Defense Minister Sébastien Lecornu lays a wreath at the memorial in Kyiv to those killed in the Russian invasion (Getty Images)
French Defense Minister Sébastien Lecornu has arrived in Kyiv. The official will hold a meeting with his Ukrainian counterpart Rustem Umerov and Minister of Strategic Industrial Sectors Olexandr Kamyshin, during which the parties will discuss military assistance to Ukraine, according to The Guardian and 20minutes.fr.
Following his arrival in the Ukrainian capital on Friday, September 28, the French minister visited and layed a wreath at a memorial in the center of Kyiv dedicated to those who lost their lives during the Russian invasion.
According to French media reports, Lecornu will discuss the evolution of French assistance to Ukraine in countering Russia's wide-scale military aggression while in Kyiv.
Accompanying the French Defense Minister, representatives of around twenty defense industry companies have also arrived in Kyiv to discuss assistance to Ukraine and industrial partnerships.
Representatives of approximately twenty French companies specializing in the production of armored vehicles, artillery, drones, cyber and communication equipment are expected to discuss and establish partnership relations with representatives of the Ukrainian industry.
Besides, today, the Minister of Defense of the United Kingdom, Grant Shapps, also arrived in Kyiv and met with the Ukrainian President Volodymyr Zelenskyy.
French assistance to Ukraine
In the middle of summer, the head of the Ministry of Foreign Affairs, Catherine Colonna, announced that France would increase its assistance to Ukraine, and that new supplies were being prepared.
At the end of August, Ukraine's Ambassador to France, Vadym Omelchenko, announced that Ukraine had received all the long-range SCALP missiles that France had promised to provide as part of the first batch.
Also, on August 30, Ukraine's Minister of Foreign Affairs, Dmytro Kuleba, held a meeting with French President Emmanuel Macron during his visit to the country.