France aims to train 7,000 Ukrainian military personnel by year's end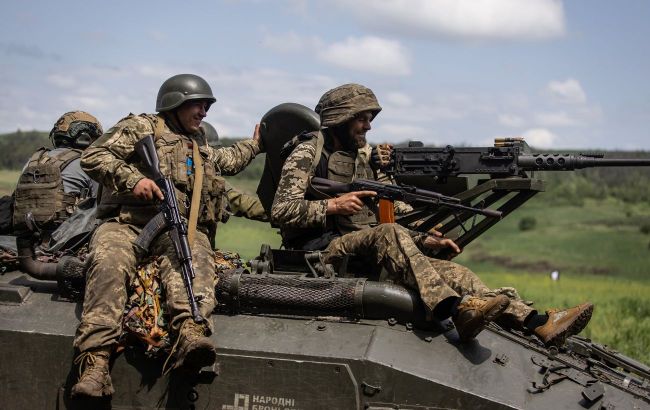 France aims to train 7,000 Ukrainian military personnel by the end of the year (Photo: Getty Images)
This year, France plans to train 7,000 Ukrainian military personnel as part of the European Union mission for military assistance to Ukraine, according to the Associated Press.
Last week, the French army granted Associated Press access to a training base in rural France to observe the final class of Ukrainian infantry undergoing testing at the end of a four-week course.
The initial goal of the EU mission was to train 15,000 soldiers, but it has far surpassed that target and now plans to reach 35,000 by the end of this year.
"As well as basic training with weapons, battlefield first aid and other skills, instructors are also imparting specialized military know-how, ranging from clearing mines and launching waterborne attacks aboard small boats to equipment repair, officer training and even help for Ukrainian military chaplains," the material reports.
What French instructors say about the training
French instructors left animal remains in a complex of bunkers and trenches to prepare the troops for bloodshed on the battlefield. According to the chief French training coach, only officers had experience working on the front lines.
"One can clearly see in Ukraine that the front line is relatively frozen, with two belligerents who employ very similar doctrines," he said.
The instructor says that today one of the keys they are looking for in an attempt to break this inertia is to try to develop maneuvering schemes.
In addition to attacking freshly dug trenches, journalists also observed Ukrainians energetically defending a mock village from a French "enemy" attack and hiding in rain-soaked forests.
Training Ukrainian military in Western countries
In November 2022, the European Union officially launched a training mission for Ukrainian fighters. At that time, it was planned that within the EUMAM mission, 15,000 military personnel would be trained.
In February, it was reported that the EU would double the number of Ukrainian military personnel undergoing training. An additional 15,000 servicemen would also be trained.
In August, French Defense Minister Sebastien Lecornu announced that 6,000 Ukrainian military personnel had already been trained in the country as part of the plan to train Ukrainian Armed Forces fighters in 2023.