Floods after Kakhovka dam break: 10 people dead, 42 missing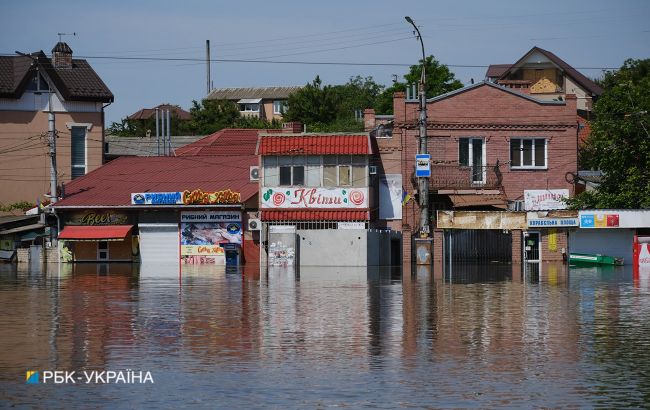 Flooded settlements in the Kherson region (RBC-Ukraine, Vitaliy Nosach)
In the Kherson region, 46 settlements remain flooded. Of these, 32 (3,801 houses) are on Ukraine-controlled territory, while 14 are on the Russian-occupied left bank of the Dnipro River.
The ministry said 8 people died because of the disaster, and 42 people, including 7 children, are considered missing. Meanwhile, 2,743 people, among them 205 children and 76 disabled people, have been evacuated.
In the Mykolaiv region, 31 settlements are flooded. Two people are known to be dead. A total of 982 people, including 167 children, have been evacuated.
In the Dnipropetrovsk region, almost 165,000 residents in 32 settlements are without a water supply. Water delivery is ongoing, and the authorities consider alternative options for a stable water supply.
"We are seeing a steady decrease in water level throughout the flooded areas. We are enhancing safety measures to prevent injuries and cases of theft," said Ukrainian Minister of Internal Affairs Ihor Klymenko.
Additionally, the police have received 1,927 reports of personal property flooding from residents of the Kherson region.
Aftermath of the Kakhovka Hydroelectric Power Plant destruction
After the Russians had blown up the Kakhovka HPP dam on June 6, dozens of settlements in the Kherson and Mykolaiv regions were flooded. The water level in the Kherson region is now decreasing, with the current water level now at 3 meters (10 feet). The Russians' weapon warehouses on the left bank of the Dnipro were washed away, thus Russian ammunition and mines were carried downstream to the shores. The Ukrainian Armed Forces urged not to clean up the shoreline debris until bomb disposal experts have checked the area, as there could be mines and explosives.