Russian DM's conflict essence: Surovikin had to be Shoigu's successor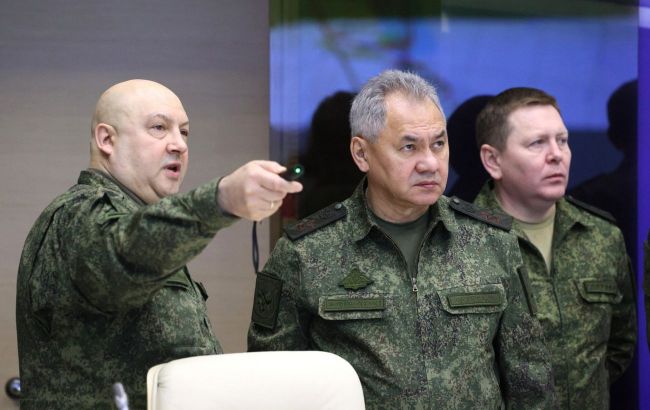 General Sergei Surovikin and Defense Minister Sergei Shoigu (Photo: Getty Images)
Russian General Sergei Surovikin was prepared to replace Russian Defense Minister Sergei Shoigu, says a military-political expert of Information Resistance Group Oleksandr Kovalenko in a comment to RBC-Ukraine.
Kovalenko stated that the arrest of Surovikin cannot be confirmed or denied at this time. However, if true, it would not be a surprise.
"The thing is that Surovikin is not just a general close to Prigozhin. He was supposed to replace Shoigu as the Minister of Defense, and he was prepared for this position. Just like General Mikhail Mizintsev, called "the butcher of Mariupol", was prepared to replace Chief of the General Staff Gerasimov," Kovalenko revealed.
He noted that Surovikin and Mizintsev are pocket generals of the Russian Federal Security Service (FSB), despite being in the Ministry of Defense.
"It's not surprising that Surovikin could communicate with Prigozhin. They had a common language because the Wagner PMC is essentially the enforcement branch of the FSB, created in 2012/2013 as a competitor to private military companies of the Ministry of Defense. As we can see, it was quite a successful project," the expert pointed out.
He also emphasized that Russian security structures - the Ministry of Defense, FSB, GRU (Main Intelligence Directorate), or foreign intelligence - are not monolithic; each of them has its own groups of influence and behind-the-scenes battles.
According to Kovalenko, the Prigozhin-Surovikin-Mizintsev group, along with another contender for the position of Defense Minister, Alexey Dyumin (former Putin's bodyguard, currently the governor of the Tula region), and the founder of the Wagner PMC, Dmitry Utkin, are playing on behalf of the FSB.
"What goal did this group try to achieve? Such an ambitious one that even the KGB (Committee for State Security) didn't think of it - to take control of the Ministry of Defense and the General Staff by placing their own people there. They couldn't do it by constantly discrediting Shoigu and Gerasimov, so it was decided to act through a violent method, through a coup," Kovalenko added.
Surovikin arrested following Prigozhin's coup attempt
The founder of the Wagner PMC, Yevgeny Prigozhin, along with his mercenaries, staged a coup in Russia last week.
He accused Russian Defense Minister Sergei Shoigu, his biggest enemy, of intentionally striking the "Wagnerites" and declared a so-called "march for justice," stating that he would reach Moscow and deal not only with Shoigu but also with Chief of the General Staff Valery Gerasimov. However, Prigozhin's rebellion did not last even a day.
According to the New York Times, General Sergei Surovikin, the former commander of Russian forces invading Ukraine, knew in advance about the planned military coup by the leader of the Wagner mercenaries.
Later, information appeared in the media that Surovikin was arrested after the failed coup attempt by the Wagner PMC mercenaries. He is suspected of siding with Yevgeny Prigozhin during the uprising.