Explosions in occupied Crimea near training ground and airfield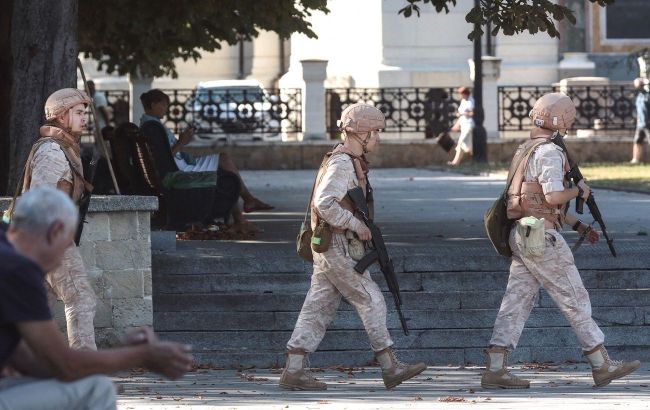 Russian military in occupied Crimea (Getty Images)
In the temporarily occupied Crimea, sounds of explosions were heard in the areas of the Starokrymskyi training ground in the east of the peninsula and the Kirovskyi airfield on the morning of August 31, according to the Telegram channel Crimean Wind.
Besides the explosions, local residents on social media are also reporting gunfire heard in these areas.
The representatives of the occupying "administration" and "governors" did not inform anyone about any training exercises."
Official statements regarding the events in these areas have not been made thus far.
Explosions in the Starokrymskyi training ground area
Similar explosions have occurred in this region before. On July 19, explosions were reported in the Kirovskyi district near the village of Krynychka, along with reports of supposed missile hits in the vicinity of the Starokrymskyi training ground, followed by the detonation of ammunition.
Afterward, the occupying "authorities" announced the evacuation of residents from several villages, including Krynychka, Ayvazovske, Abrykosivka, and Pryvitne.
Furthermore, on August 9, powerful explosions were once again heard near the Starokrymskyi training ground and in the area of Dzhankoi. The occupiers claimed it was part of a "planned ammunition disposal operation."