Explosions in Crimea: Series of blows reported in Saky and Sevastopol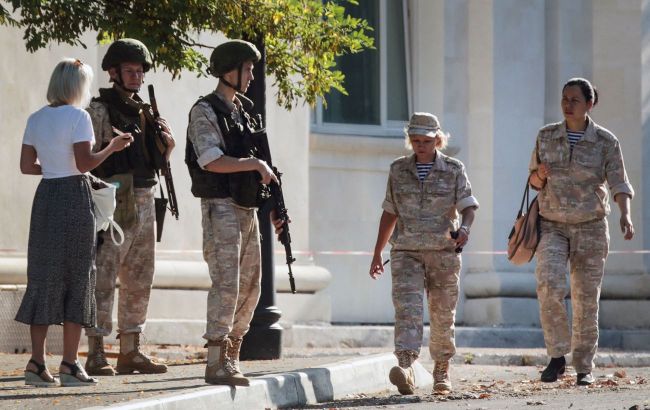 Explosions in Crimea on October 30 (Photo: Getty Images)
Explosions were heard simultaneously in several places in temporarily occupied Crimea on Monday, October 30. Reports of a series of blows sounds come from Sevastopol and Saky, while in Novofedorivka, there are reports of an "arrival" near the airfield.
More details - in the material from RBC-Ukraine.
The following sources were used to prepare the material: Telegram channel Crimean Wind, "Crimean Realities".
Sevastopol
In the temporarily occupied Sevastopol, there is information about at least three explosions.
"There are three explosions in Sevastopol," as reported by "Crimean Wind."
According to Crimean Realities, after the explosions, a column of smoke is visible over the Sevmorzavod.

Occupiers in Crimea claim to be reporting the operation of air defense systems. Supposedly, over Sevastopol, the Russian army shot down two aerial targets.
"Debris fell on the territory of School No. 27 on the North side, on Pasichna Street, and in Inkerman," wrote the governor Mikhail Razvozhaev.
Saky
In Saky, explosions are also heard one after another.
"In Saky, explosions are audible, there have already been 3-4," the Telegram channel Crimean Wind reported.
According to suspilne.media, the power supply in Saki and the Saku district was partially cut off.
Novofedorivka
According to the same Telegram channel, there is likely an airfield arrival in Novofedorivka.
"A fire engine rushed towards the airfield in Novofedorivka," the Telegram channel Crimean Wind reported.
The Russian Ministry of Defense has decided not to deviate from the usual scenario and accused Ukraine of the explosions in the temporarily occupied Crimea. Russian occupiers boasted that they supposedly "thwarted an attack attempt" from Ukraine, claiming to have shot down a total of 8 Storm Shadow missiles without a single miss.
Situation in Crimea
That night, the Armed Forces of Ukraine successfully hit a strategic object of the Russian air defense system in temporarily occupied Crimea. Earlier in the morning of October 30, there were reports on Crimean Telegram channels and pages about loud salvos in the area of the occupied Sevastopol, as well as about the closure of the bay due to explosions. The Crimean Bridge was also blocked.
Recall that on July 20, explosions occurred in the settlements of Hvardiiske and Novofedorivka, where the occupiers' airfields are located.