Evacuated Ukrainians from the Gaza Strip already arrived in Moldova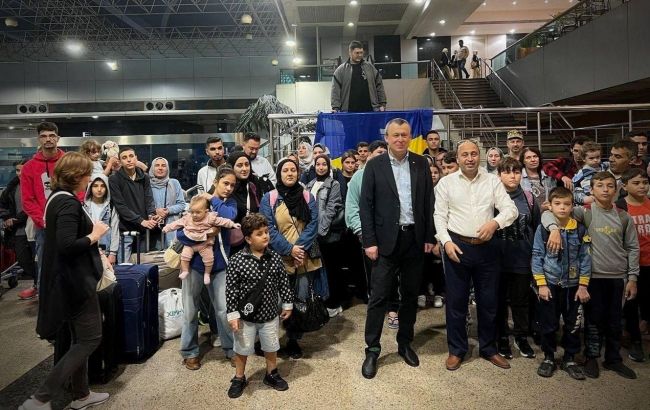 Evacuated Ukrainians from the Gaza Strip have already arrived in Moldova (photo: t.me/DIUkraine)
"155 individuals, evacuated from the Gaza Strip as part of the mission of the Main Intelligence Directorate of the Ministry of Defense of Ukraine and the Ministry of Foreign Affairs of Ukraine, have arrived at Chisinau airport on a flight from Egypt," the statement reads.
It is noted that 145 Ukrainian citizens, nine Moldovan citizens, and one Palestinian were rescued from the conflict zone.
Among the evacuees are many families with children, and one Ukrainian citizen with oncological illness. After arriving in the Moldovan capital, the woman was immediately transported by ambulance to one of the border crossing points with Ukraine, where a medical team met her and transported her to a hospital in Odesa.
"The operation to rescue our compatriots in the Middle East is ongoing," added the Main Intelligence Directorate.
Photo: Ukrainians evacuated from the Gaza Strip have already arrived in Moldova (t.me/DIUkraine)
Evacuation of Ukrainians from the Gaza Strip
On November 7, the first group of Ukrainians, consisting of 43 individuals, was evacuated from the Gaza Strip. Commenting on the successful operation, the spokesperson for the Ministry of Foreign Affairs, Oleg Nikolenko, noted that there is already approval for the evacuation of the next groups of Ukrainian citizens. The evacuation was planned for November 8 and 9.
According to information from Ukraine's ambassador to Israel, Evhen Korniychuk, which he provided before the evacuation started, there were approximately 357 Ukrainians in the Gaza Strip, although the actual number may be higher. The majority of them are women and children.
On the night of November 11, the second group of Ukrainians left the Gaza Strip. The total number of evacuees currently exceeds 210 individuals.