European Commission transfers another tranche of EUR 1.5 bln of macro-financial assistance to Ukraine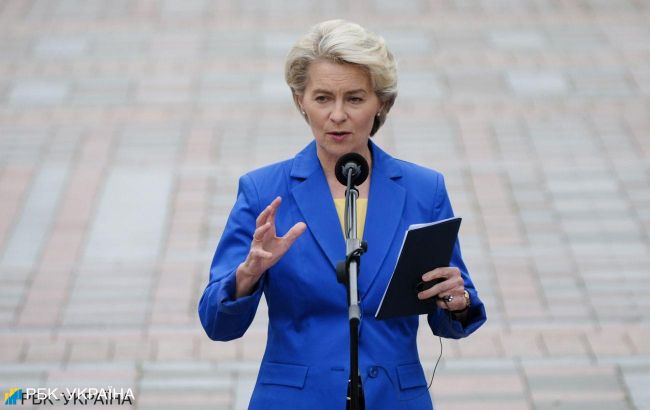 The President of the European Commission, Ursula von der Leyen (Photo: RBC-Ukraine, Vitalii Nosach)
The European Commission has disbursed another tranche of 1.5 billion euros in macro-financial assistance to Ukraine. In total, Kyiv will receive 18 billion euros in the form of long-term concessional loans in 2023, according to the President of the European Commission, Ursula von der Leyen.
"We are supporting Ukraine in its efforts to repair, recover and keep the state running. Today we paid a new €1.5 billion to Ukraine. And more will come, this year and beyond," she wrote.
As indicated by the Ministry of Finance, Ukraine received 12 billion euros in concessional credit financing through the Macro-Financial Assistance program in 2023, out of the envisaged 18 billion euros.
The credit repayment term is 35 years, with interest and other servicing payments to be made by the EU on behalf of Ukraine.
Macro-Financial Assistance, as in previous periods, is directed toward funding priority expenditures of the state budget, including social and humanitarian needs, as reported by the Ministry of Finance.
The subsequent tranches within the comprehensive Macro-Financial Assistance program are expected to be disbursed by the end of 2023, contingent upon Ukraine's adherence to the agreed conditions of structural policies.
Macro-financial assistance
The EU and its member states have provided Ukraine over 80 billion euros. In 2023, the EU will extend 18 billion euros in macro-financial assistance to Ukraine, of which 12 billion euros have already been disbursed.
Furthermore, the European Commission has proposed establishing a new instrument for Ukraine within the European Union budget, comprising grants, loans, and guarantees to cover part of Ukraine's ongoing expenditures and finance urgent reconstruction projects. This will provide continuous financial support until 2027 and cover 45% of Ukraine's budget deficit. The creation of the Ukrainian Fund with a volume of 50 billion euros is planned.