EU recognizes Musk's X as largest source of Russian disinformation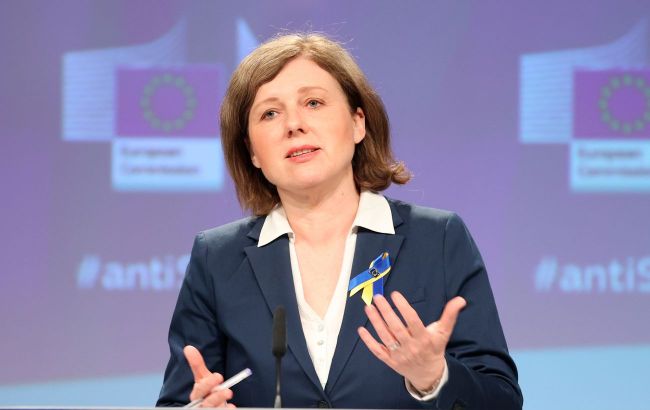 Photo: Věra Jourová, Vice President of the European Commission (Getty Images)
The EU has published reports on how tech companies, including Facebook, Google, and TikTok, are thriving in the fight against disinformation. Elon Musk's X platform (formerly Twitter) is recognized as the largest vehicle for spreading Russian lies and propaganda, according to Bloomberg.
Věra Jourová, Vice President of the European Commission, said that the platforms need to act before the national and European elections next year.
"This is a multi-million euro weapon of mass manipulation aimed both internally at the Russians as well as Europeans and the rest of the world. Especially that we have to expect that the Kremlin and others will be active before our European elections," she said
Most of the major platforms have agreed to work with the EU on a voluntary code of conduct that aims to set industry standards for fact-checking and other measures. The bloc has also implemented a pilot project to assess the extent of the problem.
"X, former Twitter, who is not under the code any more, is the platform with the largest ratio of mis- or disinformation posts," Jourová noted.
She pointed out several steps taken by the platforms to fight Russian influence. Google told the block that in the first four months of the year, it had shut down more than 400 channels that had been involved in Russian disinformation. Meanwhile, Meta said it has expanded its fact-checking partnership to 22 languages in the EU.
EU law
A new EU law regulating content on platforms called the Digital Services Act, came into effect last month.
"As Twitter has been designated as a very large online platform, of course there are obligations given by hard law. So, my message to Twitter is you have to comply with hard law and we are watching what you are doing," Jourová said.
Jourová also stated that the influx of Russian disinformation is particularly high in Slovakia, where elections will be held on Saturday.
"Slovakia has been chosen as the country where there is fertile ground for success of the Russian pro-Kremlin, pro-war narratives," she said, adding that Facebook and Google have taken some steps to boost their efforts in fighting fake news after pressure from the EU.
To recap, Elon Musk bought Twitter last year for $44 billion and renamed it X. Lately, he has been making controversial statements about Russia's invasion of Ukraine. Last year, Musk admitted to Pentagon officials that he had a conversation with Russian President Vladimir Putin.
Representatives of President Joe Biden's administration have discussed whether the United States should subject some of Elon Musk's businesses to national security checks, including the Twitter deal and the Starlink satellite network.