EU aids Ukraine: more weapons to counter Russia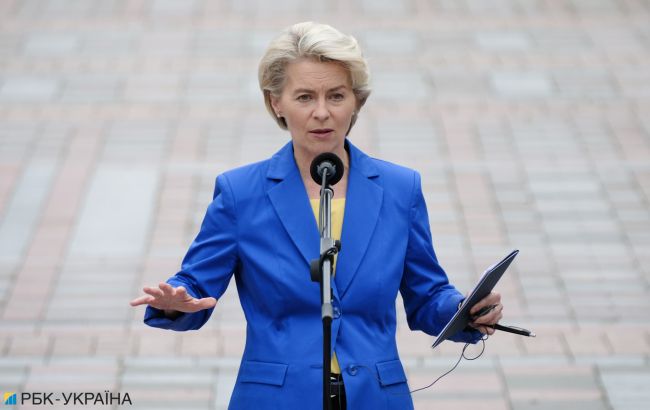 Ursula von der Leyen, President of the European Commission (Vitaliy Nosach, RBC-Ukraine)
Russia has initiated an unprovoked war against Ukraine. It's essential for the allies to equip the Ukrainian Armed Forces with long-range weaponry.
This was stated by the President of the European Commission, Ursula von der Leyen, during her address at the Globsec forum, as reported by the EC press service.
Von der Leyen said that the Russian leader is jeopardizing the peace that has been established globally since the conclusion of World War II.
"Russia is the instigator of this unwarranted and unjust war. It made an unjustifiable incursion into Ukraine with the intent to erase it from the world map. Moreover, Russia obstinately refuses to acknowledge Ukraine's sovereignty. Despite this, Ukraine's unwavering desire for freedom and resilience in combat has astonished the international community," the President of the European Commission further stated.
The people of Ukraine have persistently striven to become part of the European Union, demonstrating their bravery and determination once again. The international community must rally behind Ukraine, emphasized the President of the European Commission. At present, military aid is an immediate necessity for the country.
"For this reason, we have proposed the Ammunition Production Act. Our goal is to stimulate our defense industry to step up the production of the critically required 155mm and 152mm artillery shells. Those who are capable should equip Ukraine with long-range artillery and weapon systems. This support will enable Ukraine to level the field in terms of long-range artillery," elaborated Ursula von der Leyen.
A million rounds of ammunition for the Ukrainian Armed Forces
In March, the European Union consented to a collective procurement of one million rounds of ammunition for Ukraine's military. The agreement entails three phases, which include:
Distribution of shells from existing stockpiles;
Collective procurement of additional shells;
Ensuring European defense needs are met by the shell manufacturers.
On May 3, the Council of the European Union endorsed a decision to extend €1 billion in aid to Ukraine for the acquisition of ammunition. Concurrently, the leader of the European People's Party, Manfred Weber, urged a swift vote on plans to escalate Ukraine's ammunition production.